Displaying at Pebble Beach Concours d'Elegance 2013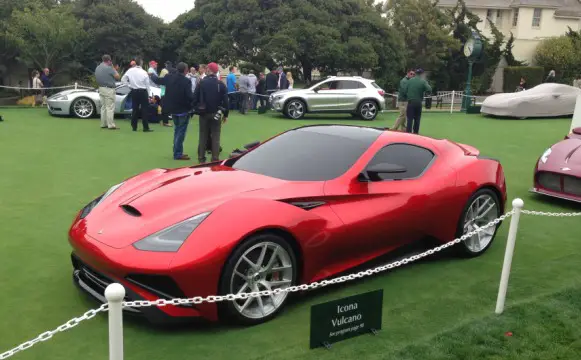 The Icona Vulcano was one of the surprise additions to this years Pebble Beach Concours d'Elegance 2013. It was first unveiled at the Shanghai Motor Show earlier in the year. The Icona Vulcano is an interesting design study blending features from a wide range of supercars, creating a vehicle that is quick to catch the eye and get your attention.
The Vulcano is the creation of Shanghai-based design studio Icona and was built by coachbuilders in Italy. Its visual beauty was created by former Bertone designer Samuel Chuffart and its powertrain technology developed by former Ferrari engineer and mastermind of numerous world champion cars, Claudio Lombardi.
The $3.8 million Icona Vulcano hybrid supercar is one of the most powerful and expensive vehicles on the planet. The Icona Vulcano is a two-door two-seater car with a front engine V12, backed up by an electric motor, producing a total output of 950 HP. The 0 to 62 mph sprint is done in less than 2 seconds and top speed will stand at 217 mph.
For more info visit: http://iconavulcano.com