Guide to visiting the Uffizi Gallery museum in Florence, offering online reservation for tickets and guided tours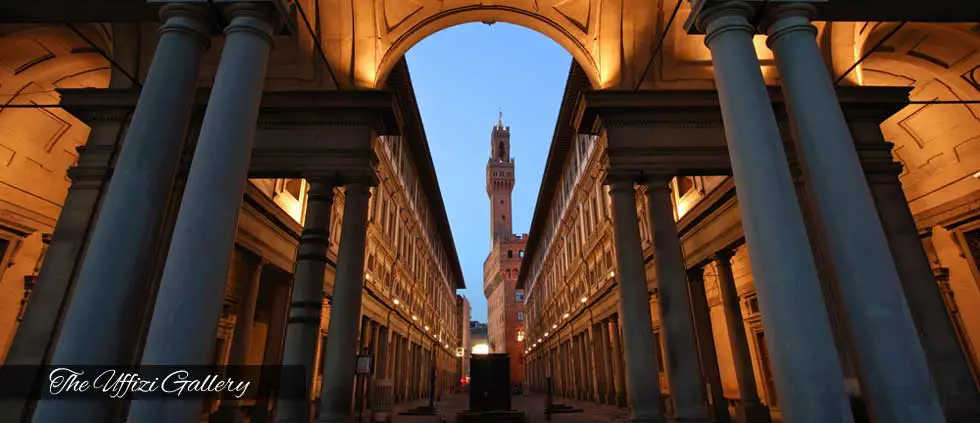 The Uffizi Gallery is undoubtedly one of the most visited museums all over the world. In fact, visiting the Uffizi is an amazing journey through the history of painting.
The museum is organized as a long labyrinth of rooms with amazing works of art displayed roughly in chronological order along a U-shaped Renaissance building which was actually never created to be a  museum.
Cosimo de' Medici had entrusted his favorite architect Giorgio Vasari to create a grandiose building right next to Palazzo Vecchio, the seat of power, to host the magistrates, the seats of the Florentine Guilds, a vast theatre and judiciary offices (hence the name "Uffizi" which means offices in Italian).
Today, the museum is home to the world's finest collection of Italian Renaissance painting, particularly of the Florentine school. It also showcases antiques, sculpture, and more than 100,000 drawings and prints.
All of the famous names from Italy's rich artistic heritage, including Leonardo da Vinci, Giotto, Michelangelo, Botticelli, Piero della Francesca, Caravaggio, and Raphael, are represented at the Uffizi, making this a must-visit museum for all travelers, especially art lovers.
As a visit to the Uffizi is one of the greatest pleasures when visiting Florence, it is advisable to reserve tickets for the museum in advance of one's trip to avoid long lines and/or disappointment.


For much more info and ticketing options, visit: https://uffizi.visitflorence.com
Take a virtual tour here: www.virtualiter.net/vr/tribuna/