A sedan meant to power the premium sports car brand's return to the United States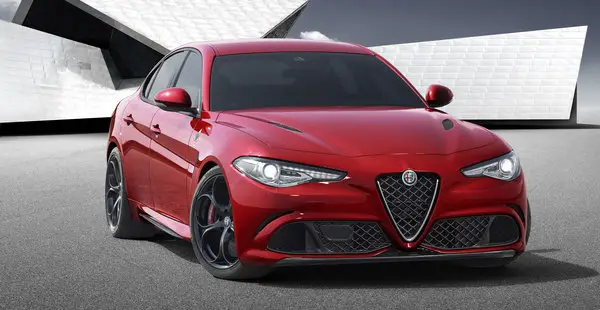 In unveiling their new flagship sedan, Fiat Chrysler chairman Sergio Marchionne said, "The Giulia represents the beginning of the rebuilding of the Alfa Romeo brand. We needed a team to think outside of the box to think from a clean sheet of paper. We needed people who could create a fresh approach. Alfa Romeo is different because it has been thorugh an intense purification process."
Designed and built around the principle of "La meccanica delle emozioni" the goal was to create a sedan with a soul, that elicits emotions from the driver and all who see it. Based on this video, Alfa is hoping to raise some passions with Giulia.
In it's Quadrifoglio trim, the Giulia will be powered by a 510 horsepower, V6 turbocharged engine, Alfa claims the Giulia will go 0-60 in 3.8 seconds.
Marchionne has allocated $5.6 billion to fund Alfa Romeo's renaissance and plans for annual sales to reach 400,000 in 2018 – up from a paltry 68,000 in 2014 – with 150,000 in the U.S. The plan envisages eight new models starting with the Giulia mid-size sedan, which will compete against the BMW 3-Series, Audi A4, Mercedes C-class and Jaguar XE. After the Giulia, Alfa is expected to announce a full-sized sedan, two SUVs, coupe and roadster versions of the Giulia and two little Giulettas.
Analysts are skeptical about Marchionne's ambitions for Alfa Romeo. IHS Automobile analyst Ian Fletcher forecasts Alfa sales will reach just 216,000 by 2018, citing the long launch delays and the crowded premium brand field that has long been present in the big markets like the United States.
The Giulia will have a European launch in the first quarter of 2016, and should join the 4C Coupe and Spider in North American showrooms in the spring. Pricing hasn't been announced, however, there are rumors of a mid $40,000 target price for the base model.
For more info see official press release: World preview of the Alfa Romeo Giulia