Sharing her love of eating and living well…Italian style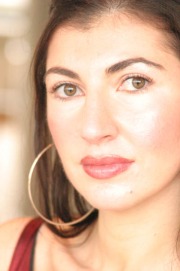 Fiorella DiCarlo was born in Naples, Italy and is currently a New York City resident. She is a Registered Dietitian and Nutrition and Food Expert that has both clinical and counseling experience.
She has worked with women with Eating Disorders, medical nutrition therapy and behavioral research. She completed a Supervised Dietetic Practice Internship with the CUNY School of Public Health at Hunter College. She received the Vivian Schulte Award and Joan Lewis Scholarship Award in 2010. In 2011, she received the Lily Scafidi Award. She is a member of the Academy of Nutrition and Dietetics (AND). She has completed a Post Graduate Program at the Women's Therapy Institute and worked as a Nutrition Therapist at the Renfrew Center in New York City. She recently completed a second post-graduate program at the William Alanson White Institute for Psychoanalysis in Eating Disorders, Compulsions and Addictions.
She has created numerous workshops for corporate wellness projects as well as one- on-one counseling, and has written a Manual for RDs for Eating Disorder Group Nutrition Therapy.
She continues to research artisanal cooking methods of Southern Italy and the Mediterranean Diet.
Fiorella has appeared in numerous television interviews as a nutrition expert. Most recently she has begun FiorellaEats – an exploration of food through the eyes and taste buds of Registered Dietitian. FiorellaEats is dedicated to exploring the Italian cuisine, culture and traditions and preserving artisanal cooking methods.
Her love of eating well Italian style and benefits of a Mediterranean Diet, have lead her here to Italia Living – where she will share her insights, expertise and more!
Follow her twitter page at: https://twitter.com/FiorellaEats