Studying abroad in Italy brings new outlook on students to savor more of life
Travel is often something people say changes our outlook on life. If you're a 20-something college student, where your comfort zone is a dining hall full of chicken tenders and burgers, you can imagine how traveling beyond their campus corners would affect them. Monmouth University, located in West Long Branch N.J., has a study abroad program which allows students to travel to Italy, England, Spain and Australia.  In Italy, University students are based in Florence, with freedom to roam and breathe in the rest of the country.
For Monmouth senior Sandra Meola, studying abroad in Italy was a chance to be independent. Originally from Hawthorne, N.J., she says she chose to take a leap of faith, step out of her boundaries and try something new.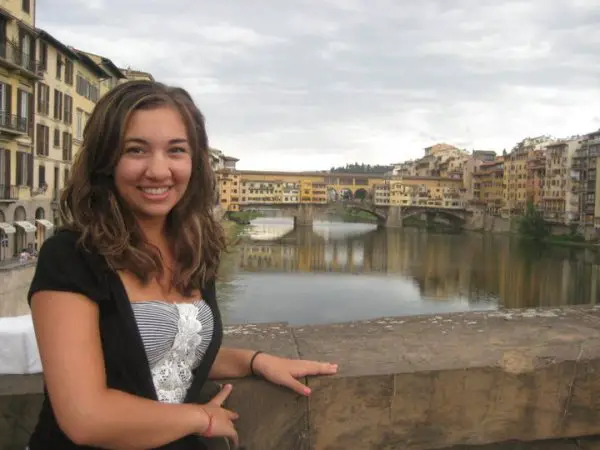 The first thing she noticed was the beauty of the country, with Florence being a "preserved city from the Renaissance, cobblestone streets, windows without screens and all." Attending Lorenzo de Medici International Institute twice a day, Monday through Thursday, Meola describes the school as a spread out campus that was a 20-minute walk from her apartment. She filled her mind with literature, sociology and history of the Italian mafia, describing classes as "much more hands-on than classes back home. Professors focused more on group discussions, class participation, and interactive field trips around the city, rather than papers and lectures. On most days in between classes I would explore the city, sometimes by myself to get the most out of it. Florence is a very safe city," she says.
Morganne Firmstone, a Monmouth graduate student, also ventured to Florence and was most excited to entrench herself in another culture. Upon landing in July, Firmstone immediately felt the rising heat. "However, the experiences we were about to embark on far outweighed any weather complaints!"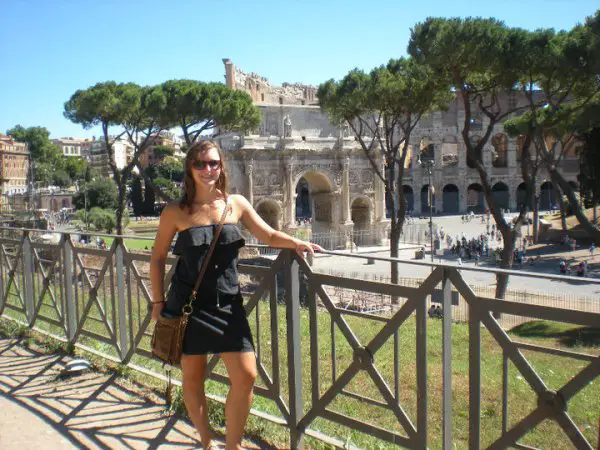 At the same institution, Firmstone took a jewelry making class and a 'food and wine' class, where she learned to pair meals with different types of wine and take notice of how different flavors come together. She wanted to take classes that were much different from those she took at Monmouth. With a teacher who brought in fresh ingredients daily, Firmstone and her classmates would cook a full meal, or they would travel to different restaurants to be introduced to different styles of cooking, as well as a gelato tour. "We tasted gelato from several local shops and compared their flavors.  It was a tough job, but someone had to do it," Firmstone jokes.
Monmouth students were placed together in a Florence apartment, approximately 20-minutes walking distance from the University campus. Meola says the appliances in Italy are noticeably small, the main refrigerator resembling more of a dorm-size. With most buildings lacking air conditioning, she explains "windows were always opened in the morning to get some fresh air in the apartment."
Outside of the classroom, Meola and Firmstone were able to be a little adventurous; on the weekends, both traveled to different parts of Italy. "I cliff jumped and swam in caves in Positano on the Amalfi Coast, toured the Pompeii ruins, beach hopped in the French Riviera, faced my fear of heights and hiked up steep cliff sides along five towns known as Cinque Terre, explored the canals of Venice, and was amazed at the beauty of Vatican City, the Coliseum and the Trevi Fountain in Rome," Meola says. Firmstone describes the Sistine Chapel in the Vatican as truly breathtaking.
So when they weren't roaming the streets or reading up on the mob, the two girls still had their hands full… and their plates. Meola remembers the Italian way of life as more relaxing and easy-going than the American lifestyle – not rushing through meals, because time eating with friends and family is said to be very valuable. "A large portion of the Italian culture revolves around food. In Italy, a coffee to go in a Styrofoam cup is unheard of. Most of the people in Florence would order a cappuccino and a pastry at a bar, sit down, relax, and enjoy themselves before going to work or school. Dinners can last for hours, with several courses and drinks in between, and at restaurants the check will not be placed on the table unless it is asked for. It's considered rude otherwise."
Italian cuisine is immensely popular in America, but Meola strongly believes the two do not even measure up to each other. An Italian-American herself, she chose to be daring and try some of the authentic Italian specialties, such as rabbit, lampredotto (cow stomach, which, according to Meola tastes like chicken) and spaghetti with mixed seafood, "shrimp heads attached and everything." The best food of all, she says, lies in Capri. "Every bite of food I ate over there was out of this world. I tried different pizzas everywhere I went and learned the more south you went, the pizza gets better," Meola reminisces.
Firmstone easily agrees, saying the food was her favorite part of the trip.  "We would go shopping at the central market in Florence, which was a farmer's market in a huge warehouse.  The fresh mozzarella cheese was amazing! It seemed that each farmer specialized in one particular food. The food industry there seems less of a corporate, mass-production enterprise, which I think contributed to how fresh everything was.  Another major difference was the portion size.  It was actually nice because when you finished a meal you didn't feel like you were going to explode, but you were satisfied.  We should probably consider more portion control in the United States."
Meola was able to hold onto a new lifelong motto after her overseas experiences. Tight friendships were formed, as she often gets together with the fellow students to recollect over the memorable trip. "They're the only ones who really 'get it'," she says. After taking the train to Rome for the day, Meola and a friend were met with delayed train schedules due to a fire a few miles outside of the city. The two ended up waiting at the station for four hours, returning to Florence around 3 a.m.  "I learned to relax and roll with whatever punches come my way. Being abroad put my life in perspective as I realized that the world is so much bigger than my little nest back in New Jersey."
The same goes for Firmstone, who really focused on relaxing and enjoying her surroundings. Although travel mishaps like Meola's happens, she advises that it is all part of the experience. "You learn a lot about yourself while traveling abroad such as problem-solving skills, teamwork, map-reading…the most important lesson was to worry less and enjoy more!"
Six months later, Meola still thinks about Italy and misses it dearly; the experience, she believes, changed her in so many ways. With the help of her family, she has been learning the language and is planning on going back to the country this summer. "I would go back to Italy in a heartbeat. The short month I spent there was the best time of my life and the happiest I had ever been," she says. "I became more independent, patient, appreciative, confident, and definitely proud to call myself an Italian."
---
Written by Gina Columbus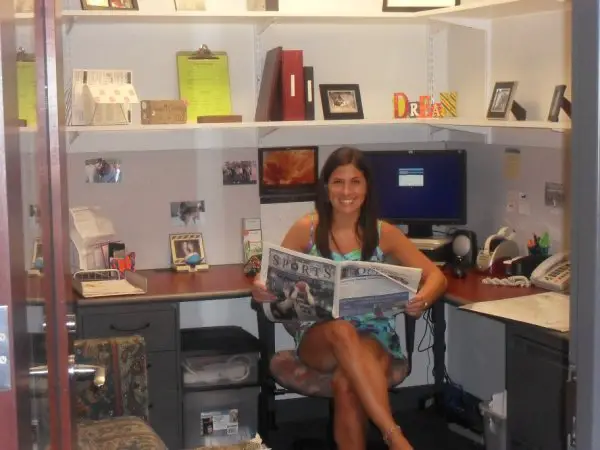 At the time of this writing, Gina was a senior studying communication and journalism at Monmouth University and Editor-in-Chief of the University newspaper, The Outlook. With an Italian family, she is proud of her heritage and hopes to visit the beloved country in the future.
For more information about Monmouth University, visit: www.monmouth.edu