The modern architecture in cities traditionally built to expand the ideal of fascism in Italy and to make propaganda
Fascism has been a very hard period in Italian history.
The debate around its sway in current political and social life is still controversial, but not its architectural heritage.
Most of Italian train stations, post offices and school buildings have been realized in that period with a new style claiming futurist lines intended to build the cities of the future.
So to make to space in the new towns, many marshy areas were cleared, as the extended stretch of coast in Tuscany between Pisa and Livorno.
New cities as Calambrone and Tirrenia were called 'colonies', and starting from 1925, they hosted children aged 6 to 12 years in order to foster their growth, to tackle tuberculosis and to let them breath iodine and ideology.
This explains the huge buildings with wide open spaces that are still there to witness the big dream. Visiting the city is a real trip back in time to discover a place that in the 30's saw the birth of the first movie studios in Italy, even before the birth of Cinecittà in Rome.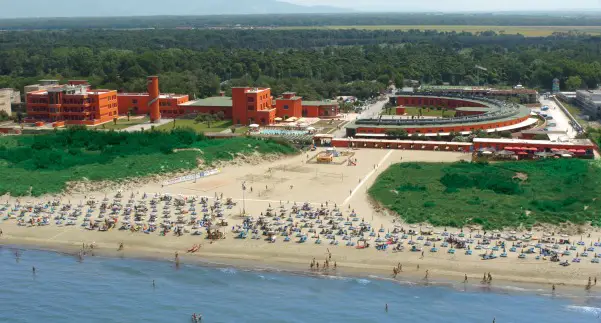 In Calambrone, the famous architect Angiolo Mazzoni realized one of largest colonies' hostels (14,000 square meters), which was named Rosa Maltoni after the mother of Benito Mussolini. Today it is considered one of the most exalted expressions of futuristic architecture in Italy.
The complex is recognizable from the road for the two tall towers that rise on either side and that are actually water tanks, designed to make the citadel completely independent. The tower surrounded by spiral staircases is a recurring motif in the design of the Termini station in Rome.
Today, the colony regained its original bright orange color for being turned into Regina del Mare resort, who's rooms and apartments face the Tirrenia sea and redeeming the building from decay and neglect.
For further information visit: www.reginadelmare.it/en
---
By guest contributing writer, Beatrice Rinaldi. Beatrice is an SEO & Content Strategist and writes about travel for QNT Hospitality.