A few highly recommended luxurious hotels by TripAdvisor
Living la Dolce Vita in Italy is a dream for many people, and once your plane has landed at the airport you start to smell and taste the Italian flavour. The whole of Italy, from the north to the south, including the two pearls of the Mediterranean Sea, Sardinia and Sicily, is a paradise on Earth. Its landscapes and its food & wine specialties cannot be compared. If you are planning a luxury holiday in Italy, we suggest you check these Hotels and Resorts recommended by the celebre travel website TripAdvisor.
Sheraton Parco de' Medici Rome Hotel
If you are planning to sleep in one of the most luxury resorts you have ever experienced, in front of the breath taking landscape of one of the most beautiful cities in the world, you better book a room at Sheraton Parco de' Medici Rome Hotel. You would probably think you reached heaven in just one night.
The Sheraton Parco de' Medici Rome Hotel, located in the marvellous Eternal City, is set on eighty hectares of parkland, and is only 11 km from the Basilica Papale San Paolo Fuori le Mura Church and 15 km from the Coliseum. This luxury resort offers bright rooms and suites with modern furnishings, feature flat-screen TV's and Wi-Fi. Some renewed quarters offer fascinating country views while others add private gardens. All the suites blast free Wi-Fi with living areas and some include stylish marble bathrooms. The prices start from £100 per night.
The hotel has 4 restaurants, 4 cafe/bars, a golf course and 3 pools, plus a fitness room and 5,000 sq m of meeting space. The parking is free. For further details check the official website out. www.sheratonparcodemedicirome.com.
Du Lac et Du Parc Grand Resort – Riva del Garda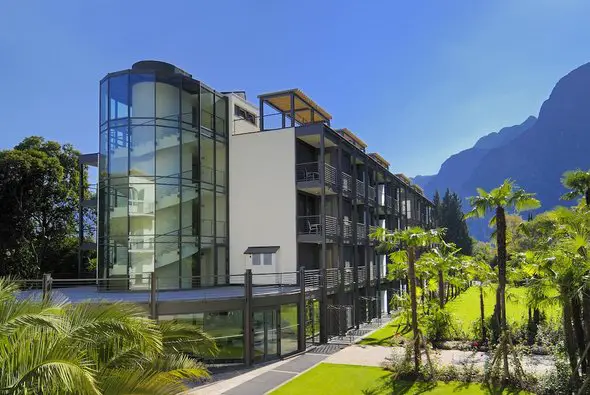 Immersed in the fascinating lakeside of Trentino Alto Adige, on 70,000 sq m of woodland and landscaped gardens, the Du Lac et Du Parc Grand Resort offers relaxed suites and villas just 1.4 km from Riva del Garda and 7 km from Castello di Arco medieval castle.
All the rooms offer several facilities such as free Wi-Fi, flat-screen TVs and minibars. And some of them add elegant balconies. Suites, along with modern and stylish furnishings, blast separate sitting areas and wet bars, while others add kitchenettes. Renewed suites offer sundecks with hot tubs.
Guests can find 3 restaurants including a Pizzeria, buffet-style dining and a refined bistro. A stylish bar is also available, 3 pools, a spa and a tennis court. Further details are available on the official website www.dulacetduparc.com/en.html.
Belmond Hotel Splendido – Portofino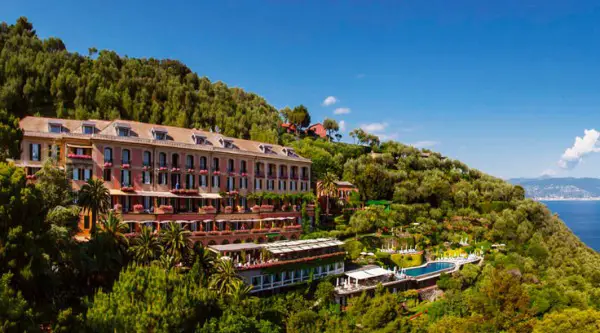 Next to Portofino harbour and a 10-minute walk from the museum at Castello Brown, this fashionable resort is set on the beautiful landscape of the Ligurian Riviera.
All the suites have terraces or balconies with an astonishing sea views along with en suite marble bathrooms. Among the amenities guests can find free Wi-Fi and flat-screen TVs, plus minibars and room service. A single top floor suite adds a separate living area. The Dolce Vita lovers can enjoy the real Italian lifestyle by booking the so named Dolce Vita Suite situated on a luxuriant hillside detached from the rest of building. The interiors are fashionable decorated in charming pastel colours, completing the astonishing scenery of Portofino Bay.
Free breakfast buffet, a restaurant and bar with a marvellous view of the harbour are also included. A shuttle service to a sister hotel gives guests free access to a heated, saltwater pool, a terrace and lush gardens, a spa with treatment rooms and a sauna. The resort is closed during winter but it will be opening in April again. The average rate is 800 € per night. Further details available on www.belmond.com/hotel-splendido-portofino/.
Risorgimento Resort – Lecce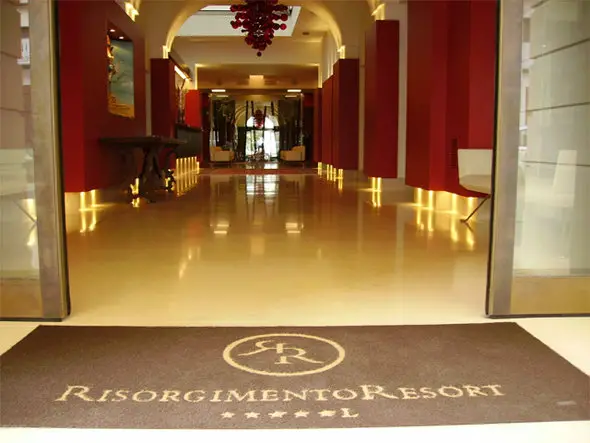 Located in Apulia, in the fabulous scenery of Lecce, this resort is only a 4 minute walk from the baroque Basilica di Santa Croce and the 16th-century Castle of Charles V.
The luxurious rooms are elegantly furnished along with free Wi-Fi, flat-screen TVs, minibars and room service. Suites add living rooms and/or private terraces.
From the stylish Restaurant and Bar of the resort, guests can enjoy the astonishing town view which is more fascinating from the rooftop terrace. An equipped gym and a spa, offering a whirlpool tub, a Turkish bath, massages and treatments, are also available. Parking is free. For all details visit www.risorgimentoresort.it/.
Villas Resort – Castiadas
Among the most luxury destinations, it is worth to mention the marvellous island of Sardinia, located in the heart of the Mediterranean sea. This island has plenty of luxury hotels and resorts. However according to TripAdvisor, there are three resorts which need to be visited and one of them is the Villas Resort, in Castiadas, in the province of Cagliari. Set on white sand beaches, in the area of Costa Rei, on the South Coast of the island, this classy Mediterranean-style resort is a 2 km walk from the shops of Costa Rei and 4 km from the San Pietro beach.
The comfortable rooms offer flat-screen TVs, minibars, and patios or balconies. Indeed, some offer sea views. The 1 to 3-bedroom suites add living rooms and sofa beds, while others have outdoor Jacuzzis, with no added fee. Room service is also available.
Breakfast and parking are free, and there's a restaurant, an American bar and a beach bar. Facilities include a pool, a hot tub, a gym and sports facilities, plus a kids' club. Babysitting and a spa are also available along with a fee. For further details please check www.villasresort.it/.
Resort & Spa Le Dune – Badesi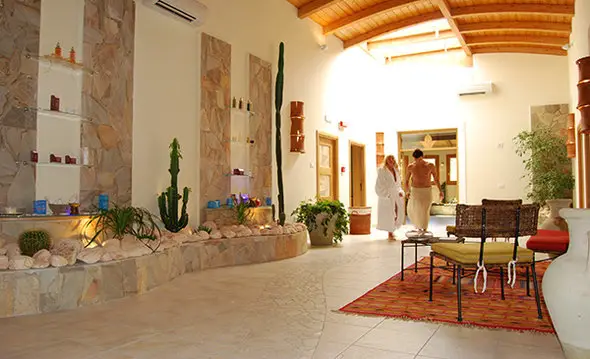 Another luxury resort in Sardinia is immersed in Badesi Marina, on the north coast of the island. The Resort & Spa is located between sand dunes and centuries old juniper tress. Alongside its 496 bedrooms just a few minutes walk from a fine sandy beach, the resort is divided into 5 hotels each with their own style.
All the rooms blast fashionable furnishings, ceramic floors and astonishing view of the sea. All units offer satellite TV and terraces. Suites have separate sitting rooms and sofa beds.
Its restaurants range from an international buffet to a candlelit adults-only eatery. Bars, pools, tennis courts and a spa are also included. For all the sport lovers, several activities are also offered. It is worth it to take part in their water-based activities including a dive center and a sailing school. The resort blasts a kids' club and regular evening entertainment, too. A medical center and free parking are also available. More information on www.resortledune.com/sardinia.
Rosapetra Spa Resort – Cortina d'Ampezzo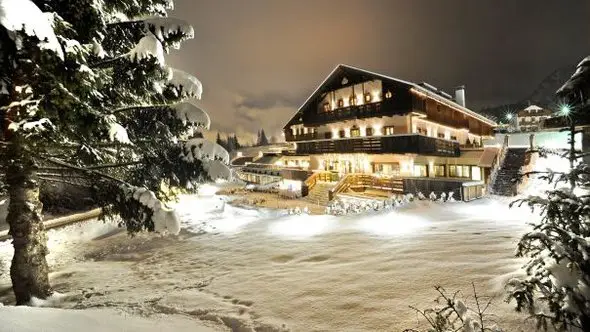 Luxury hotels suitable for all mountain lovers are also spread on the north of Italy. A worthy example is the Rosapetra Spa Resort immersed in the picturesque scenery of Cortina d'Ampezzo. Set beneath the Dolomite mountains, this high-end hotel with a woodsy vibe is 2.4 km from the Cortina Golf course. In about 15 minutes the Lake Misurina is also reachable.
Alongside covered bedheads and walls entirely made of wood and stone, the rustic but elegant rooms come with several facilities such free Wi-Fi and flat-screens. Most rooms have terraces while suites offer sitting areas. Room service is also available.
A complimentary breakfast buffet is served in the resort's restaurant. A chic bar is also available for a cocktail in the evening. Among the amenities guests can enjoy the indoor pool and a hot tub, a relaxing spa and a fitness centre. The resort provides trainers and experts for every sort of activities such as skiing and rock climbing. For a complete excitement, the entertainment staff offers events, especially over the weekends. Parking is free. Further details are readable on the official website www.rosapetracortina.it/en/.
I Monasteri Golf Resort – Siracusa

Not to miss Sicily, another pearl of the Mediterranean Sea rich of beauty and history. If you're planning to enjoy the island, you better book a room at I Monasteri Golf Resort in Siracusa. This exclusive hotel, on the site of a former Benedictine monastery, is 14 km from Fonte Ciane natural spring and 16 km from ancient ruins at Mura dionigiane.
High-end rooms with contemporary, lush decor have free Wi-Fi, TVs and minibars. Relaxing, refined suites enhance separate living areas with pull-out sofas and/or bathrooms with soaking tubs.
The Resort offers leisure and entertainment thanks to the presence of an 18-hole golf course as well as a clubhouse with a restaurant. The spa offers massages and beauty treatments, along with a sauna and a hot tub. There's also a seasonal outdoor pool, and parking is free. For details and booking information check the website www.imonasterigolfresort.com/en/.
Ca' Nigra Lagoon Resort – Venezia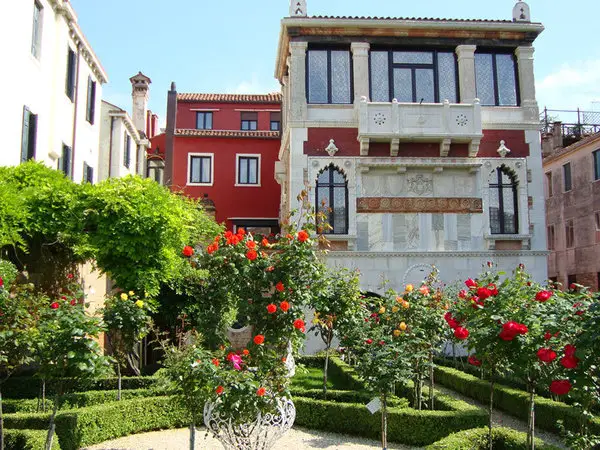 Venice is one of the most loved cities in the world and it is worthwhile to plan a trip there. If you're planning to land in the romantic lagoon city at the Adriatic Sea, why don't you book a room at the Ca' Nigra Lagoon Resort?
Set in an 18th-century building at the junction of the Grand Canal and the Rio Marin canal, this exclusive hotel is a 5-minute walk from the Santa Lucia Station train terminal and 1.9 km from Piazza San Marco.
Elegant rooms and suites have all the comforts such as free Wi-Fi, flat-screen TVs and minibars. Some offer canal views, terraces and/or whirlpool tubs. Room service is available.
Facilities include complimentary breakfast and a bar. There are 2 gardens, 1 next to the Grand Canal and the other bordering the Rio Marin. Further details on www.hotelcanigra.com/en/hotel-venice/38-0.html.
Baglio Oneto Resort and Wines – Marsala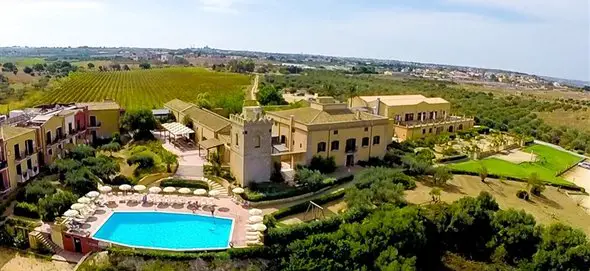 Finally, guests can land in another frequently visited city which is Marsala, in Sicily. Celebre for its delicious wine taste, the city of Marsala does not offer the Baglio Oneto Resort and Wines, just focused on its popular wine…there is so much more.
The resort, which has 48 elegant rooms inspired by an old village, is immersed into nature giving their guests a fabulous panorama. All rooms have a balcony or terrace that allow visitors to enjoy the picturesque view.
Set 9 km from both Villa Genna park and Trapani Aiport Vincenzo Florio, this winery hotel in an 18th-century fortress with a tower is 11 km from the nearest beach, Lido Torre di San Teodoro.
The traditional rooms offer free Wi-Fi, countryside-view balconies or terraces, flat-screen TVs and minibars. Renewed rooms have sea views, while suites show separate living areas. Room service is available.
Breakfast and parking are free. Facilities include a regional restaurant, an outdoor pool and a courtyard patio. There's also a business center and meeting space. An airport shuttle and, certainly, wine tastings are available, each for a fee. Further details are available on www.bagliooneto.it/en/.
---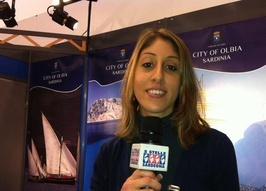 By, Juli Piscedda
Lifestyle & Travel Columnist
Juli is a lifestyle journalist and travel writer based in London where she also works in the event industry as photographer, video-maker and sometimes as a DJ too. She loves traveling and exploring, music, movies, art and culture, swimming and certainly the irreplaceable Italian Dolce Vita!
You can visit her website at: http://julipiscedda.wix.com/julipiscedda