A spectacular ultra-luxury panoramic view penthouse suite in Rome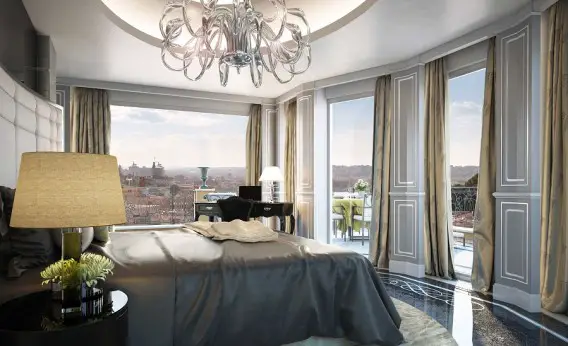 Baglioni Hotels' Regina Baglioni, Rome, is using technology to entice consumer interest in its new Roman Penthouse Suite through a four-part video series.
The luxury travel brand is looking to appeal to affluent travelers' emotions and their interest in art and craftsmanship.
The Roman Penthouse has launched an innovative teasing campaign that will upgrade your idea of wonder, project, perfection and view – in a sense to upgrade the guests lives. The Roman Penthouse is the most exclusive apartment in the heart of La Dolce Vita that will redefine the standards in contemporary luxury hospitality.
"All hotel chains tend to communicate the same way with very little exceptions," said Luca Magni, brand and communication advisor at Baglioni Hotels, Milan, Italy. "What we wanted to do was to communicate not only a product, the usual story or usual communication about a space and a service, but the story of a creation, highlighting what's beyond, the unseen, the conception and the wonder beyond it."
"The idea started with some philosophical thoughts about luxury, which nowadays is one of the most commonly-used words in hospitality," he said. "The idea is that beyond a product there are all qualities of the human being. Luxury is the result of many ingredients, all of which are rare. That's why it has a value.
Baglioni Hotels is presenting the videos on a microsite at http://romanpenthouse.baglionihotels.com where consumers can also view a countdown to the completion of Regina Baglioni's Roman Penthouse Suite and explore the property.
The completed Roman Penthouse Suite books at at $18,000 per night, and offers a panoramic view of the city, three bedrooms, a dining room, multiple living areas, a private kitchen, a private bar and access to private terraces. Included are also a dedicated concierge, private chef, private barman, and private limo service.
By realizing that social media marketing is critical in todays markets for brand growth and development, Baglioni's brand and marketing department is working with a partner that specializes in social media to launch the suite in Italy, Britain, other parts of Europe, the United States, Russia and China.
"Distribution is executed via YouTube, Vimeo, Stumble Upon and Reddit, to begin," Mr. Magni said. "Video seeding is done in all relevant markets where high-end consumers are accustomed to surfing the Web."
"Public relations, blogs and luxury Web sites as well as Facebook, Twitter and Pinterest are also part of the method," he said. "In addition, personal marketing presentations and direct mail marketing are used – of course, the old way of communicating via mail cannot be overlooked."
"A video truly tells a story and is more involved and emotional than a press release or newsletter," Mr. Magni said. "A video is alive."
"For us, it is always is a matter of relationships with our clients."
See more at: Regina Baglioni Roman Penthouse Suite