Amid ancient and religious art…modern convenience is to be found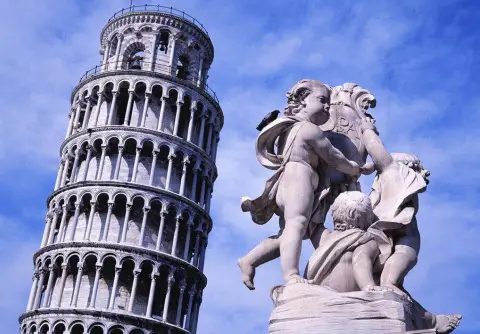 Pisa is best known as the Leaning Tower city and, too often, known only for this.
Tourists arriving here are surprised to find the amazing places hidden beyond the Piazza dei Miracoli.
Enchanted views await the visitors just around the corner of the Church of Thorn – a splendid example of Gothic architecture standing right on the bank of the Arno river, like a casket miraculously supported by the waters.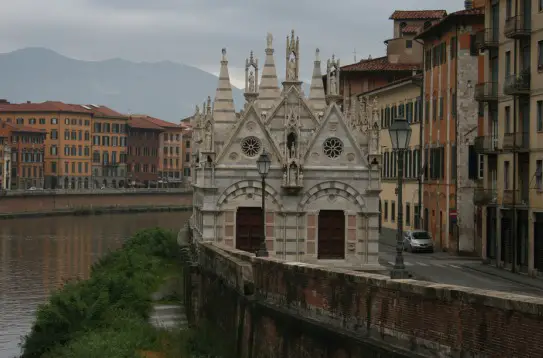 Pisa surroundings are no less amazing.
Enclosed within the seaside that marked its past maritime dominance and the mountains that protect it from the hinterland, Pisa area is rich in places yet to be discovered, as the Basilica of San Piero a Grado, a beautiful Romanesque church appointed by UNESCO as "Monument Messenger of Peace".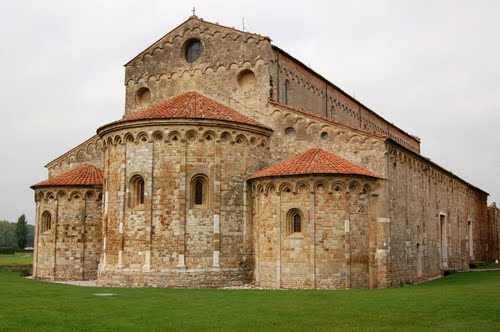 The church originally stood near the ancient port of Pisa now disappeared, called Grado, where according to tradition, St. Peter landed in the year 44 AD. For this, it has been for centuries a place of intense pilgrimage.
In the opposite direction, the Certosa of Calci, former monastery now home to a museum of natural history of the Pisa University, still preserves intact a remote spiritual atmosphere.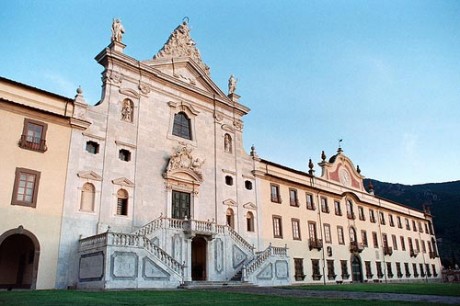 As a great writing at the entrance reminds the visitor: "Beata solitudo, sola beatitudo" (Latin, the meaning is "Blessed loneliness, only bliss".)
But the greatness of culture at Pisa doesn't limit in ancient and religious art.
In 1989, with a public performance, American artist Keith Haring painted giant murales (180 squares metres) on the wall of the Church of Sant'Antonio, very close to the main train station. "Tuttomondo" will be the Haring's latest artwork.
Contemporary art, you know, often merges with the architecture of functional spaces: so is the case of San Ranieri Hotel.
Totally covered with crystal panels for energy-saving, the hotel maintains a lightweight and original appearance.
During the day, sun shimmers through the glass and lights up all spaces. At night, countless shades of different colors turn on the building into a fluorescent masterpiece for an unforgettable emotional experience.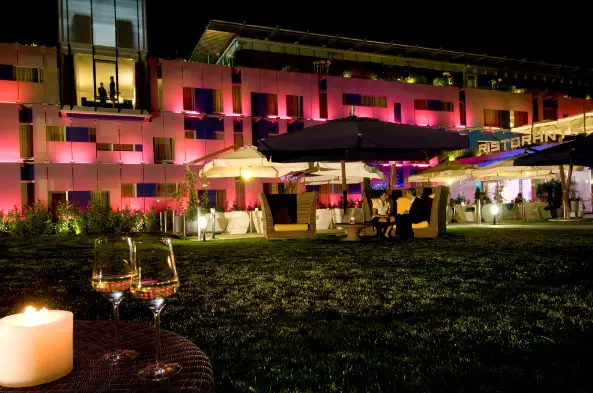 Rarely architecture is so flexible to adapt to the needs of everyone, but at San Ranieri Hotel, both the tourist and the businessman will be pleased to find that rooms are contemporary without the result of detached feeling, as is sometimes an art hotel can be.
The comfort of a strategic location, upscale-level hospitality, and an original modern design, allows San Ranieri Hotel to be one of the most renowned hotels for travelers.
For more information:
Website: Hotel San Ranieri
Via Filippo Mazzei 2, Cisanello
56124 PISA – Italy
Tel. +39 050 971951
Fax. +39 050 9719530
info@sanranierihotel.com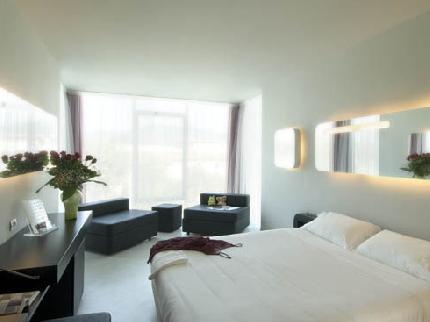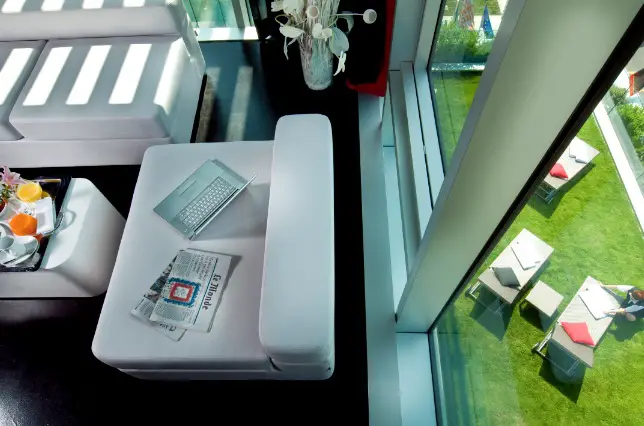 ---
By guest contributing writer, Beatrice Rinaldi. Beatrice is an SEO & Content Strategist and writes about travel for QNT Hospitality.