A luxurious masterful blend of Italian and Oriental design and hospitality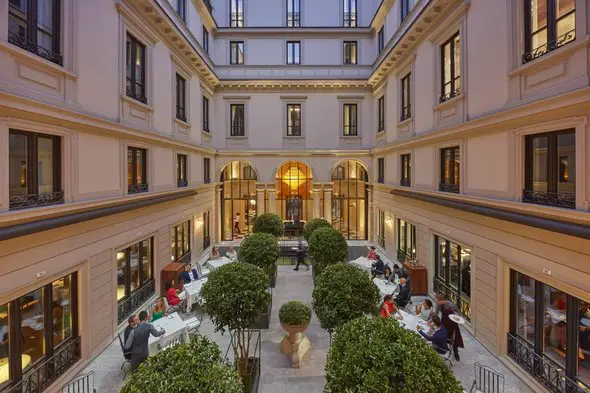 Strategically housed within four redesigned 18th century buildings, the Mandarin Oriental Milan hotel offers 104 rooms and suites on Via Andegari, just a few steps away from the fashionable Via Manzoni and Montenapoleone.
The property combines contemporary Italian design by internationally renowned studio Antonio Citterio Patricia Viel Interiors, with timeless oriental luxury and service, to provide a comfortable and well-appointed environment.
There's much to love about this new hotel, like its fine dining restaurant, Seta, presided over by Chef Antonio Guida, formerly of the two Michelin starred restaurant Il Pellicano, in Tuscany, which will offer sophisticated, contemporary dishes combining French, Asian and Tuscan influences. The restaurant offers al fresco dining in its beautiful courtyard as well as year-round seating indoors.
The more casual Mandarin Bar which also has courtyard seating, offers a 'bistro style' menu of Italian dishes and hotel classics. Its vibrant atmosphere makes it the perfect spot for enjoying a typical Milanese aperitivo or evening drink created by expert mixologists.
Guests can pamper themselves in the intimate spa, which offers six treatment rooms, two couple's suites, a dedicated Thai massage room and a special hair salon, mani-pedi studio and beauty area, plus an indoor heated pool and fitness center.
The luxurious guestrooms are amongst the largest in the city, with Mandarin Oriental's renowned customer-centric technology providing guests with highly sophisticated in-room entertainment.
"We are delighted to introduce Mandarin Oriental's renowned hospitality to Italy, and are confident that Mandarin Oriental, Milan will become a new luxury landmark for guests seeking the finest address in the city," said Luca Finardi, General Manager.
www.mandarinoriental.com/milan