Putting love and joy into cooking, eating and sharing
Walking to the door of Mamma Agata's Hidden Treasure seems like just another apartment in the village of Ravello, Italy — a large door and steep staircase with a petite apartment on the other side. Yet I ring the bell and am welcomed at the door by a beaming Chiara. I make my way slowly down the staircase and come to one of the most breathtaking sights I have ever seen. To my left is a beautiful gourmet kitchen, full of fresh vegetables and pots of deliciousness boiling on the stove. To my right is a large terrace bursting with lemons and a long dining room table. Directly below me is a garden full of herbs, flowers and vegetables… and then I see it — the jagged coastline of the towns below, resting quietly on the banks of the Mediterranean Sea.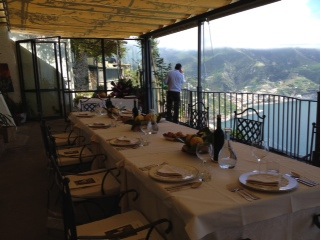 Chiara, the Director of "the farmhouse", greets me with a warm smile and an energetic attitude. She shuffles me into the kitchen and begins her demonstration of traditional Italian dishes- different sauces, pastas, and meats while a group of onlookers — clients of her cooking class, watch intently. As Chiara explains each step, her mother, the famous Mamma Agata herself, demonstrates.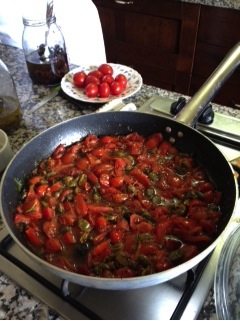 Gennaro, Chiara's husband and the Sommelier of the organization, pours wine and explains what makes the wine from this region such high-quality.
The fresh homemade wine isn't the only intoxicating aroma in the air. Everyone is drunk off of anticipation to taste what is cooking in the pots, pans and bowls scattered throughout the kitchen.
There are bowls of olives, fritters, sauces and breads being passed around. After hours of watching, talking, learning, tasting and drinking, everyone moves outside to the terrace and the courses begin come out one by one: Mamma Agata's Fritters, eggplant parmigiana, eggplant rolls, Mamma Agata's tomato sauce, spaghetti, pappardelle with peppers and sausage, chicken with lemon, mixed salad, and of course, true to the Amalfi Coast style, lemon cake and limoncello for dessert. The ingredients are fresh and "paesano", or locally cultivated.  Music plays and the ambiance is jovial as everyone sits around the table, between the sky and the sea, 1000 feet above sea level.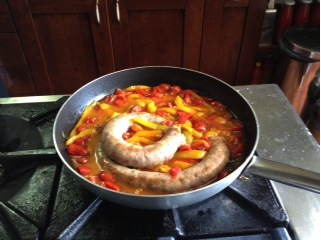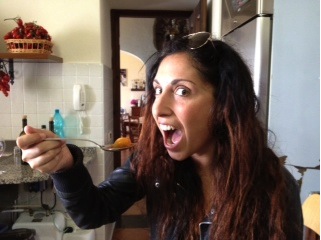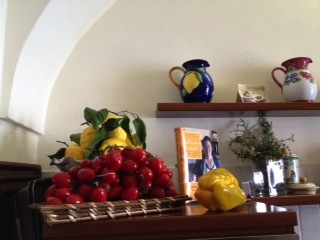 After a day of cooking, eating and laughing, everyone climbs back up the stairs with full bellies and happy hearts.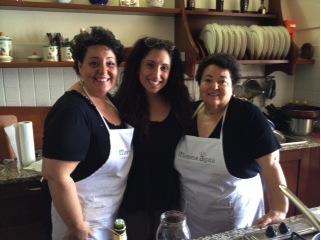 ---
Buy Mamma Agata's cookbook, "Simple and Genuine", and make all of her delicious recipes at home, or sign up for one of her famous cooking classes. 
---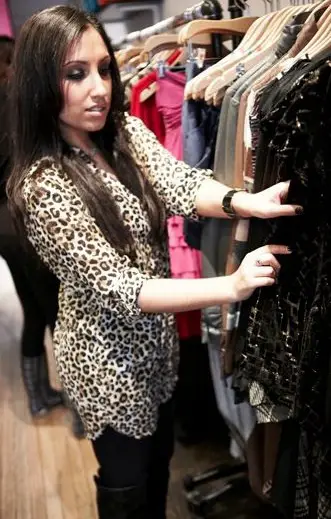 Valeria Carrano is Fashion Director & Contributing Columnist for Italia Living.
To learn more about her, visit our About Us page.