Luxury agents say their most discriminating clients are booking or inquiring about over the next year are Italy, European river cruising and the United States

October 2016 /PRNewswire/ –
Travel Leaders Group released its Fall Luxury Travel Trends findings, based on a survey of luxury travel agents under the Travel Leaders Group umbrella. Among the top destinations for luxury travel in the coming 12 months, Italy leads the way, followed by European river cruises, the United States, Mediterranean cruises and Australia, respectively. In addition, 84% of the agent experts surveyed state that their luxury travel bookings are higher than or on par with this time last year and that the top resort amenities expected by their affluent clientele includes: fine dining, private concierge-level access, spas, personalized or private check in/check out, and butler service. These luxury travel trends are based on responses from 785 Travel Leaders Group's luxury travel agent experts across the U.S.
"The allure of Italy is stronger than ever, particularly with affluent travelers who are seeking authentic, enriching experiences paired with a multitude of very high-end accommodations. Add to that the favorable exchange rate, and Italy is a huge magnet within the luxury sphere for American travelers," stated Travel Leaders Group CEO Ninan Chacko. "There are so many culturally and geographically intriguing destinations that made our list – from Cuba and South Africa to New Zealand and Iceland, and even the U.S., which has a rich diversity of top drawer, discreet destinations for VIP travelers."
Luxury Travel Top Destinations: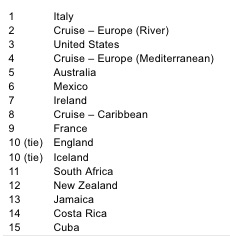 The top three "destinations" – either by country or cruise itinerary – that the surveyed luxury agents said their most discriminating clients are booking or inquiring about over the next year are Italy, European river cruising and the United States.  Upwardly-trending destinations such as Iceland, New Zealand and Cuba were also among the Top 15 destinations affluent clientele are seeking for vacations according to Travel Leaders Group's luxury travel agents.
Luxury Travelers' Expected Resort Amenities:
When Travel Leaders Group's luxury travel agents were asked "What are the Top 3 expectations for your luxury travel clients when it comes to resort amenities?" the leading responses included: (1) "Fine Dining," (2) "Private Concierge-Level Access" and a (3) "Spa" – followed closely by "Personalized or Private Check In/Check Out" and "Butler Service," respectively.
"Selecting the right destination is just the beginning of what affluent travelers desire. Sophisticated local cuisine offers a culturally-immersive experience and is important to a significant number of our high-end clientele, including millennial travelers," stated Gail Grimmett, President of Protravel International and Tzell Travel Group, both renowned for their best-in-class luxury advisors. "Our survey also clearly identified that simplifying and personalizing aspects of the trip with private check-in and check-out, private concierge-level access and butler service are musts for our clientele. In fact, each is expected, and that's important for our industry partners to recognize."
Chacko agreed. "It takes a professional with first-hand expertise and the proper training in high-end service to truly delight the affluent client.  As the largest seller of luxury travel, our travel agents take great pride in customizing and tailoring each itinerary for each individual seeking this level of inspired travel."
Top Accommodations for Luxury Travelers:
For luxury travel clients seeking land-based accommodations, the top selections booked by their luxury travel agent include: (1) 5-Star Hotels and Resorts, (2) Suites within 5-Star Hotels and Resorts, and (3) Suites within Hotels and Resorts with a rating of 5-Star + (plus) or higher.
For luxury travel clients seeking a luxury experience on a ship or vessel, Travel Leaders Group's luxury travel agents were asked what they are booking most for their clients and the top responses were: (1) Luxury Cruise Ships, (2) Suites on Luxury Cruise Ships and (3) River Cruises.
Overall Luxury Travel Bookings:
When Travel Leaders Group luxury travel agents were asked to compare their overall 2016 luxury travel bookings so far to their luxury travel bookings at this time last year, 84% of those surveyed said bookings are higher than or on par with 2015.
These findings on luxury travel are part of the larger 2016 Fall Travel Trends Survey conducted by Travel Leaders Group from July 28 – August 24, 2016. Participants in the full survey included 1,145 travel agent experts from the flagship Travel Leaders brand, along with those affiliated with Travel Leaders Group's Cruise Specialists, Nexion, Protravel International, Results! Travel, Travel Leaders Corporate, Tzell Travel Group and Vacation.com units.
Travel Leaders Group is one of North America's largest travel companies – encompassing nearly one-third of all travel agents – and generated gross travel sales of approximately $21 billion in 2015. Travel Leaders Group is a leader in both the retail travel agency space and corporate travel, and it consistently ranks as one of the top travel companies nationwide.