By Marta Calligaro of Homes and Villas Abroad

In the 18th and 19th centuries it was an essential part of the Grand Tour. In the 1950s, author John Steinbeck was so entranced that he described one of its resorts, Positano, as "a dream place".
The allure of Italy's Amalfi Coast remains undimmed to this day. Its 60 or so kilometres of breathtaking coastline are among Europe's most stunning and its picturesque resorts such as Amalfi, Ravello and Positano remain a magnet for everyone from Hollywood stars and Russian billionaires to honeymooning couples and sightseeing daytrippers.
Throw in its picturesque, whitewashed cliffside villas and apartments, with their spectacular views over the sea, and it's easy to see why the idea of owning real estate here appeals to so many. However, if you're house-hunting here, it's important to know where to look and what to expect.
Demand for properties on the Amalfi Coast is sky-high and they change hands far less frequently than in other parts of Italy. It means that although this part of Italy is famed for its stunning beauty, it isn't exactly cheap. So if you're hoping to pick up a two-bedroom sea-view condo for US$100,000, you're in the wrong place.
In general, a one-bedroom apartment will cost from around US$335,000 as a minimum, with starting prices in most resorts on the coast higher still.
The sumptuous clifftop villas that adorn real estate websites and property brochures will often change hands for $5million-$6million and over. The flipside is that their rental potential is spectacular and in the August high-season they will often go for around $20,000 a week.
The steep, spectacular coastline means that along most of the Amalfi coast, access to most properties is via a series of outdoor steps – which as a purchaser will have to factor in if anyone using the property is elderly, a wheelchair user or has stroller-age children.
Be prepared also for the fact that the main road that hugs the entire Amalfi Coast is the narrow SS163, which becomes congested in summer.
So, what do different resorts offer the house-hunter? Amalfi may give this the coastline its name, but the jewel in the crown is Positano, its most attractive and glamorous destination. It is also its most expensive. The number of homes on the Positano market has improved in recent months after years of poor availability. This has kept price rises in check of late.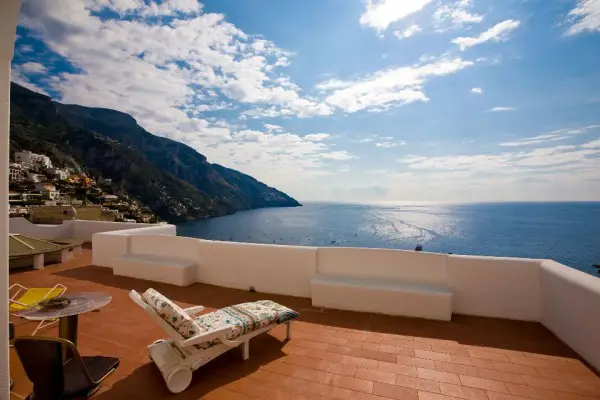 However, you can still expect to pay at least $770,000 for a 2-bedroom apartment with sea view. As an example of what's on offer if you have a higher budget, at Homes and Villas Abroad we are currently listing a 6-bedroom/6-bathroom sea-view villa for $8.7million.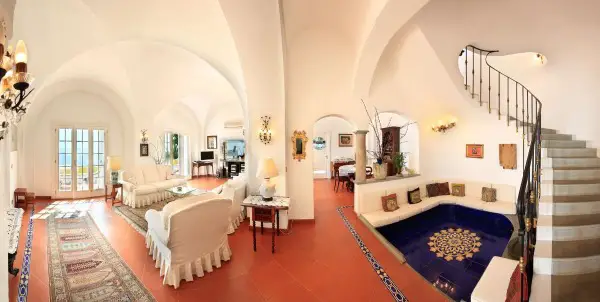 Many buyers view Praiano, some six miles down the coast, as a close alternative to Positano – albeit with slightly more affordable options. As a result, prices here are heavily influenced by the state of the market in Positano. A shortage of available properties for sale in Positano will see prices rise in Praiano. Conversely, when Positano has a glut, Praiano prices tend to dip slightly.
The town of Amalfi – home to just 5,000 inhabitants, although this swells significantly in high season – tends to be more affordable than either. Expect one-bedroom apartments to start from around $365,000.
Another option is Ravello, just a mile or so from Amalfi and sitting on a hill overlooking it. Its famous fans have included Gore Vidal and before him, fellow writers DH Lawrence and Virginia Woolf and composer Richard Wagner. Here, you will probably be asked for $400,000 for a one-bedroom condo of around 40-45sq m with sea-view. That can rise to $475,000 for two bedrooms and $540,000-$550,000 for three.
However, the most affordable resorts on the Amalfi Coast are probably Minori, a couple of miles east of Amalfi itself, and Maiori, next to it. Here, a 30sq m studio apartment can start from around $200,000 and a one-bedroom condo of around 45sq m from around $335,000 – although it is sometimes possible to find options up to $30,000 or $40,000 cheaper.
Prices drop a bit if you are prepared to consider hillside villages a few miles inland. One of the most scenic is Furore, some 15 minutes' drive from the coast, where if you don't mind something a little tight on space, a 35sq m one-bedroom apartment with a view over the sea in the distance can be picked up for as little as $100,000.
By Marta Calligaro of Homes and Villas Abroad