Stay with Armani, A world of sophisticated beauty.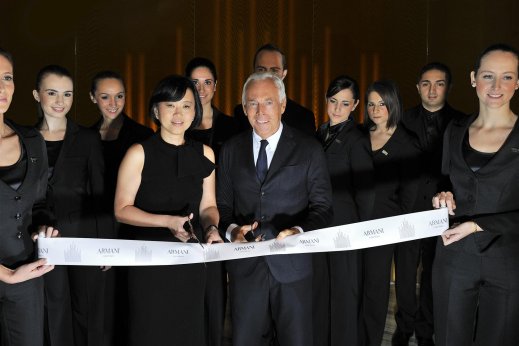 This month the new Armani Hotel Milano was opened, becoming the second Armani hotel to be launched after the Armani Hotel Dubai.
The Milan event was attended by international luminaries including Jessica Alba, Maggie Gyllenhaal, Peter Sarsgaard, Lauren Remington Platt and Olivia Palermo. Giorgio Armani himself conducted a ribbon cutting ceremony alongside representatives from Emaar Properties PJSC, the collaborator and partner of Armani Hotels & Resorts.
"I have concentrated all my efforts on delivering my personal aesthetic vision within a precisely defined ambience of total comfort," explains designer Armani.
The hotel is located Milan's world-famous fashion district. It was personally designed by Giorgio Armani, and features 95 elegantly appointed guestrooms and suites. Armani brings its "home-away-from-home" experience to the hotel by offering you a personal Lifestyle Manager anticipating your every need and ensuring that you get the best out of your stay in Milan.
A key element of this approach is the decision to give every room a small vestibule that creates an intervening space before the bedroom is revealed. The 95 rooms and suites offer a variety of options: from Armani Deluxe Rooms (up to 45m2) to Armani Signature and Armani Presidential Suites, ranging from 170 to 200m2, on two levels connected by a stairway that makes a striking architectural impact.
Minibars, high-tech amenities, cupboards that vanish into the walls – referencing the passion for order and sense of space pursued by Giorgio Armani over many years in his own homes – create a relaxing atmosphere within a spacious setting.
The Armani Hotel experience is epitomised by a unique concept of service delivered by the Lifestyle Department. Lifestyle Managers are the point of contact for guests, whose every need and wish is expected to be fulfilled with discreet assistance at all times.
The Armani Hotel Milano has been planned to satisfy the needs of work, relaxation and pleasure, conforming to that ideal combination of elegance and simplicity that defines the Armani style. "Stay with Armani" is not merely a slogan, but an expression of the hotel's fundamental philosophy.
For more information visit: www.armanihotels.com