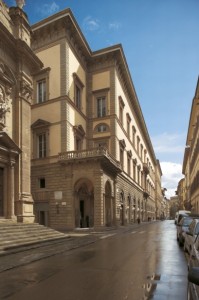 Opened in April 2009, Palazzo Tornabuoni is the world's first 'Palace Residence Club'. Situated on one of Florence's most aristocratic city-centre streets, this historic fifteenth century palazzo has been restored to exacting standards and styled by a leading Italian interior designer to provide 38 sophisticatedly elegant private residences for its members, plus a series of welcoming indoor and outdoor communal areas.
A joint venture between Florence's RDM (a division of Fingen) and J. Byrne Murphy of Kitebrook Partners, Washington DC, Palazzo Tornabuoni is managed by Four Seasons Hotels and Resorts. In addition to the dedicated services of the club's resident attachés, Palazzo Tornabuoni's members can enjoy the extensive facilities at the new Four Seasons Hotel Florence, including the city's first full-featured hotel spa.
Florence and Palazzo Tornabuoni: Life as art
Florence knows a thing or two about civilized living. American composer Virgil Thompson summed up the spirit of the city when he wrote: "In Paris you learn wit, in London you learn to crush your social rivals, and in Florence you learn poise". But the poise of Florence is not a mannered facade. It's based on a deep-rooted appreciation of life as a form of art. The grace of Botticelli's Venus, the genius of Brunelleschi's daring cathedral dome, the satisfying complexity of a Chianti Classico Riserva – these are all facets of the Florentine's deep-rooted sense that life should be illuminated by good taste and infused by beauty.
Palazzo Tornabuoni taps into this philosophy in a way that no hotel could ever hope to do. Nothing quite like it exists anywhere in the world: it's a home away from home, but it's also a club; it's a historic fifteenth-century palazzo adorned with museum-quality sculptures, friezes and frescoes, and yet it's also open to the vibrant modern city, with its flair for fashion, talent for design, and love of good food and wine. It offers its guests a pied à terre in the centre of town, on elegant, boutique-lined via Tornabuoni; but it also opens doors onto the city's private social and cultural scene, the one that tourists rarely glimpse. It's the art gallery; but it's also the curator.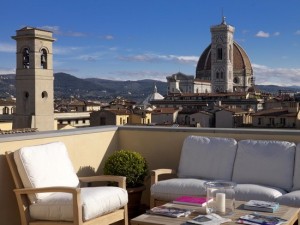 Florence and Palazzo Tornabuoni: an international community at the heart of the city
There's no small pleasure to be gleaned from owning a stake in a palazzo where the world's first opera performance took place; in knowing that that statue of Diana that welcomes you at the foot of the stairs has been there for three and a half centuries; in coming home to a spacious apartment whose sapient design – by leading Florentine architect Michele Bonan – captures perfectly the spirit of the city in its balance of effortless traditional elegance and contemporary flair.
But club members know that this is only one side of Palazzo Tornabuoni. The other is the chance to be part of a community of cultured, like-minded citizens of the world who have contacts and experiences to share, and who are driven by curiosity, a thirst for cultural enrichment, and the desire for personal growth. This is a place where, thanks to the club's extensive resources, talk and action are never far removed – where a discussion in the Members' Salon about Tuscany's most refined reds can turn into a wine tasting courtesy of Palazzo Tornabuoni's resident sommelier, where a question about Giotto's frescoes in Santa Croce may be answered a few days later by a private seminar given by a leading art historian, where shared musical interests might lead to an impromptu song recital – or to front-row seats at a Maggio Musciale concert conducted by Zubin Mehta.
In the past, Grand Tourists would travel with letters of introduction to consuls, artists and princes. Buying into Palazzo Tornabuoni is like being given literally hundreds of letters of introduction – to winemakers and chefs, owners of art-filled palazzos and hidden Renaissance gardens, exclusive golf and tennis clubs, private hunting reserves, craftsmen, academics and fashion designers.
Florence and Palazzo Tornabuoni: the best things in life take time
The foundation stone of Palazzo Tornabuoni was laid in the mid-fifteenth century, when the Renaissance was in full bloom, its art and architecture animated by a new-found interest in classical theories of harmonic proportions, based on the human figure.
But in their fascination with the grandeur of Greece and Rome, the artists and thinkers of the Florentine Renaissance were also engaging in a debate about time and timelessness. "Impatience, the mother of stupidity, praises brevity", wrote Leonardo – a genius with a multitude of interests, and yet also a man who realised that each one needed time to cultivate and perfect. In his Lives of the Artists, Vasari reports that Leonardo would sometimes spend half a day just looking at his Last Supper, without adding a single brushstroke.
In a world of increasingly short attention spans, Florence has not forgotten Leonardo's lesson. Just across the river from Palazzo Tornabuoni, an intagliatore is patiently chiselling away at a block of oak to make an ornate lintel, using tools that have the changed little since the Middle Ages. Further down the road, bespoke cobbler Stefano Bemer uses the same tools to fashion the forma, or wooden model, of his latest client's feet. Several consultations and fitting sessions and a couple of months later, the shoes themselves will be ready. Those who want ready-to-go should look elsewhere; Florence knows that the best things in life take time.
Palazzo Tornabuoni is as wired and techno-friendly as any international business traveller could desire; but it's also about those areas of life that are beyond the range of wi-fi and instant messaging. On any given day, you may find yourself learning to make ribollita soup or papardelle in hare sauce with a real Florentine homemaker; indulging in a spa session at the Four Seasons, Palazzo Tornabuoni's partner in Florence; or spending a day connecting with the terroir and the people behind the wine at one of Tuscany's leading estates.
Palazzo Tornabuoni aims to be a living example of Florence's great intuition: that time and quality go hand and hand.
---
Visit the Palazzo Tornabuoni website for more information.
Article content and photos supplied by Palazzo Tornabuoni, a sponsor of Italia Living.