PRESS RELEASE
Forte dei Marmi, the chosen location for luxury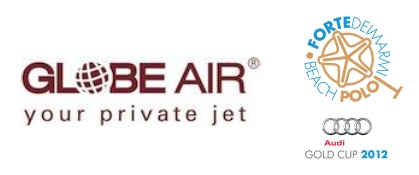 Linz, March 21th, 2012 – GlobeAir, Austrian company leader in Europe in private aviation sector, announced that it has undertaken for the 2012 marketing and communication actions aimed at consolidating its business on the international scene.
"These actions include the positioning of our services at the high end, through partnership agreements with major and leading companies in the field of excellence, in which GlobeAir shares culture and values," said Mauro De Rosa, Chief Marketing Officer GlobeAir AG.
For the first time the Austrian airtaxi company has approached a sport, announcing the sponsorship of the prestigious circuit 'Audi Polo Gold Cup' during three tournaments of Cortina, Forte dei Marmi and Rome, where the teams are challenged on the ice, sand and grass.
Exclusivity and elegance have always characterized this circuit that is part of the World Polo Tour, alongside tournaments in St. Moritz and the Argentina World Cup, and represents a must in the activity of polo in Italy.
"The decision to approach this sport allows us to convey to the public the values of our company and the strengths that differentiate us from our competitors. We find in this sport the same passion, precision and commitment that allow us, GlobeAir, to obtain the best performance in all conditions, without ever losing sight of respect for rules", adds Claudia Fanini, Marketing & Communication Manager, GlobeAir AG.
GlobeAir owns the world's largest fleet of modern jet Citation Mustang, configured for 4 people and has achieved its success thanks to the strategy of offering the best service before, during and after the flight to those who seek flexible solutions for flying. Certified Wyvern and IS-BAO, the highest standards of aviation safety, GlobeAir can land at airports such as St. Tropez, Lugano, St. Moritz, not accessible to traditional airlines.
From Thursday 5th to Monday 9th April, GlobeAir will attend the Beach Polo Audi Gold Cup in Forte dei Marmi, organizing for the entire period of the tournament, transfers for guests, providing information about its services and collecting names for a raffle flight aboard a private jet.
For more information: 
GlobeAir AG 
Claudia Fanini, Marketing & Communication Manager
E-mail: claudia.fanini@globeair.com
Mobile: +39 349 3762997
Office: +43 7221 7274 00
Website: www.globeair.com