Historical Abbey estate in Tuscany on the market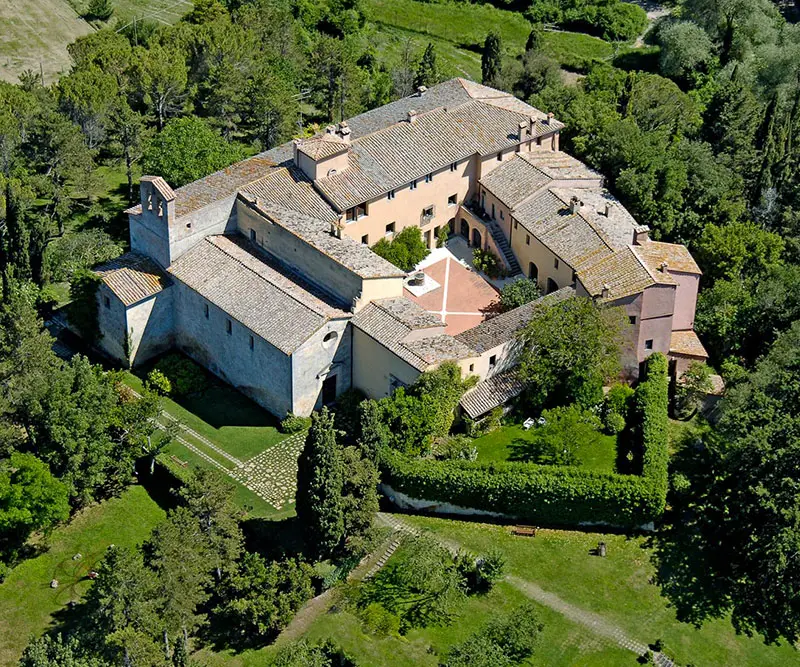 Situated in the hills of Tuscany, the Val d'Orcia is a UNESCO world heritage site. Slightly south of there, the municipality of Sarteano lies in the center of Italy about halfway between Florence and Rome. This Tuscan town of Sarteano is considered one of the region's most beautiful areas.
A beautiful historical property in Sarteano is on the market – an 11-villa estate that dates back to the 11th century. Constructed in 1085 and known as the Vallombrosa Abbey of the Holy Trinity of Spineto, this spectacular estate was a functioning abbey up until 1830. With the fall of Siena, the abbey eventually ended up under the rule of the Medici family, according to the property's agent.
In 1830, the estate passed definitively into private hands, being acquired by its current owners in 1989. They did an extensive detail oriented 11 year renovation on the entire property.
The estate is so spacious that each of its 11 villas are separated by miles of land, with each villa embracing a fabulous location. Most of the villas stand out of small hills that dominate the landscape.
The estate is comprised of a main abbey – which features nine double bedrooms and nine bathrooms – 11 independent farmhouse villas, two stables, and a congress hall that can accommodate 200 people. The estate amounts to 40,900 square feet in total, excluding the church, which was consecrated and belongs to the Vatican.
The Abbey estate sits upon 830 hectares of land, much of which is mature forest.
Estimated price: €23 million (US$25.5 million)
For more info visit: Carratelli Luxury Homes