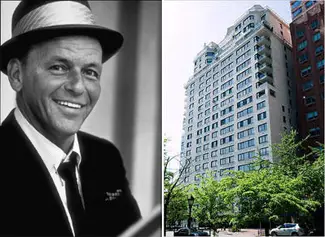 Frank Sinatra's former Manhattan penthouse, where Ol' Blue Eyes entertained the hell-raising Rat Pack, had gone on the market in summer of 2012 for $7.7 million. Well it may have become more affordable, having been just reduced to $5.595 million. Ok, maybe still not affordable for everyone. 
The apartment at 530 East 72nd Street, "defies convention while providing the very finest in luxury living," the listing promises. 
This stunning penthouse has sweeping views of the East River as well as a clear view to the waterfront park that bear's Frank Sinatra's name.
The apartment that Andy Warhol described as a "glittering grotto in the sky" has panoramic views of New York's East River, four bedrooms and four full bathrooms, a wraparound terrace, and an authentic Apple Store glass staircase.
Sinatra used the pad for wild parties where glamorous guests reputedly included Marilyn Monroe, president John F. Kennedy, and Sammy Davis Jr, who is said to have tossed champagne glasses from the balcony onto the expressway below.
Sinatra bought the Upper East Side apartment in the early 1960s, spent some time there during his tempestuous 1966-98 marriage to Mia Farrow, and sold up in 1972.  
Since Frank Sinatra moved out, his New York penthouse has been completely remodeled.
Inquire about the listing at: Rubicon Property