Venue in the same building that houses Prada's men's store in the Galleria Vittorio Emanuele II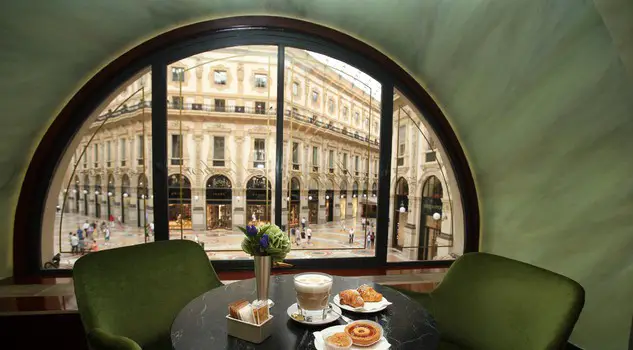 Prada's Pasticceria Marchesi (Pastry Coffee Shop) has opened its third location in Milan this week. in the heart of Milan in Galleria Vittorio Emanuele II, an emblematic symbol of the city.
The new venue, located on the mezzanine floor of the building that houses Prada's Men's store, can be accessed by stairs or elevator both from the Galleria arcade and the Prada Men's boutique.
After the opening of the Prada menswear store, the inauguration of the Marchesi pastry shop is the second phase of a major project in which the prestigious Galleria location of Prada Group will become a genuine hub of its many facets, where fashion, food, art and a wide range of cultural activities will harmoniously coexist.
The new Marchesi shop covering an area of 2,700 square feet, reinterprets the atmosphere and allure of its historic shop on Via Santa Maria alla Porta, Milan. Its striking ambiance with several arched windows overlooks the splendid frescoes and mosaic pavements of the Galleria.
Like the Marchesi shop on Via Monte Napoleone, part of the space in the new store is used as an elegant tea room which serves a variety of dishes throughout the day: breakfast, lunch, tea, and an evening aperitif.
Stefano Cantino, the groups strategic marketing director, said Prada will eventually expand Pasticceria Marchesi outside of Italy. "We've had requests from international malls, but we are defining the timing. In the medium-term, we will open in Shanghai and Dubai. We are not doing franchised banners and we want to guarantee high standards," explained Cantino, adding that "maybe" some Prada stores could also house the pastry shop.