by Chef Carla Pellegrino –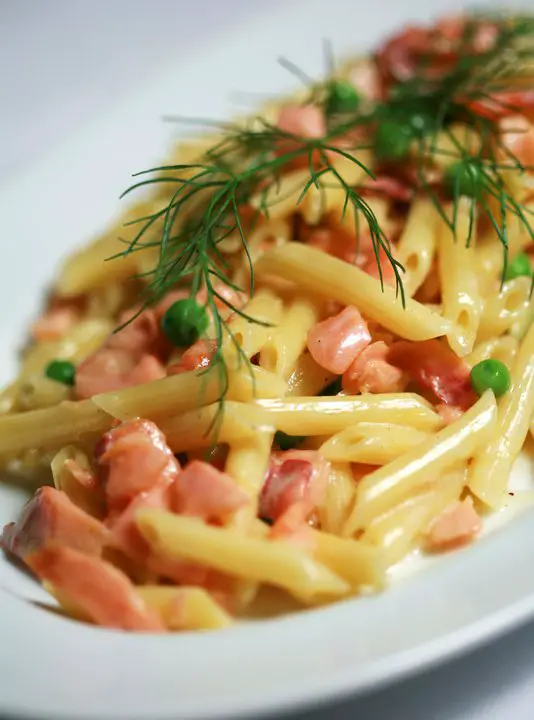 PENNETE AL SALMONE
Instructions:
1.
INGREDIENTS FOR 4 PEOPLE
Penne pasta 350 g
half 150 g smoked salmon
2 tablespoons tomato paste
1 / 2 cup heavy cream
Salt Pepper Parsley White wine
1 / 2 chopped onion Butter
Dill leaves to garnish
2.
Prepare the salmon by cutting into small pieces with a knife or with scissors . NOT chop ever with the blender or other machines come out because that would ruin the taste of a mush pot.
3.
In a large skillet, preferably nonstick, sauté onion in melted butter and add the chopped smoked salmon.
4.
Sprinkle white wine and let evaporate. Combine tomato sauce and cream. Cook briefly and add salt and pepper (to give more flavor you can use freshly ground white pepper).
5.
Meanwhile cook pasta in salted water.
6.
Cook the sauce over very low heat while pasta cooks. When the pasta is cooked, add a sprinkling of parsley sauce and add pasta. Please note that the parsley is joined at the end of cooking because otherwise it becomes bitter! Garnish with a Dill spring!
BOUN APPETITTO!
---
About Executive Chef Carla Pellegrino: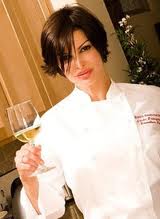 Carla Pellegrino, once Carla Madeira, was born in Rio de Janeiro to a Portuguese father and a second-generation Italian mother. As early as age 10, Carla was cooking daily for her family and helping run her mother's catering business, which educated her in the preparation of traditional Brazilian, Italian and Portuguese cuisine. At age sixteen, Carla moved to Liguria, Italy, where she owned a small store where her passion for cooking inspired her to conduct cooking demonstrations daily. In 1997, travels brought her to the United States where she met Frank Pellegrino Jr. (co-owner of Rao's restaurant in NYC). She attended the French Culinary Institute in NYC and in 2000, graduated with honors. In May 2000, she and Frank opened and successfully established Baldoria Restaurant on 8th avenue and Broadway at the heart of NYC's theater district. At the end of 2006, a dream became a reality and Carla lead the culinary team as the executive chef to open Rao's Las Vegas.
For more of Carla's recipes and restaurant happenings, follow her on twitter at: http://twitter.com/chefcarlapelleg