by Jacqueline Hayler – 27 September 2010 –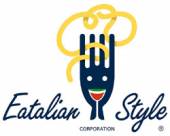 The purpose of Eatalian Style Corporation is to promote the art of Italian cooking, and particularly Umbrian cuisine, throughout the world.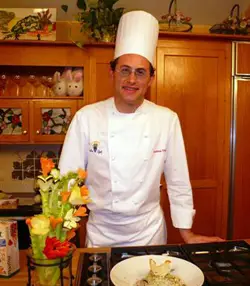 Founded in 2000 by Andrea Tiberi, Antonio Petruzzi and Moreno Tiberi, it has been a personal journey as they sought to promote and implement the techniques and secrets of authentic Italian cuisine.
Eatalian Style is based in Perugia, Umbria and New York in America after Andrea took the philosophy to the States in 2006.
Introducing the term "Foodlosophy", Eatalian Style makes a firm decision not to abandon old habits and ideas used in food preparation, but to look at them again in the light of the demands of modern society, adopting new techniques and new tendencies while at the same time staying with their culinary, cultural and social roots.
The Eatalian Style team believes that good food preparation requires equal parts of history, the chef's hand and ingredients. Their staff is composed of experts in diverse disciplines, "all working together, sharing their specific knowledge".
They offer an opportunity for International cooking professionals wishing to learn / improve the Italian cuisine methods to attend cooking lessons directly in Italy. Executive president and chef Andrea Tiberi said: "Culinary schools in the US teach a combination of French, American and Italian cuisine, but they don't teach authentic, traditional Italian cooking.
"American chefs need to know more about Italian cooking.  They only know what they learn out of a book and most lack real Italian cooking experience. But I understand that not all chefs can leave their country and go to work in Italy for a few years.
"At our school, Michelin chefs from different Italian regions, such as Tuscany and Sicily come to teach the nuances of their region's cuisine.  We offer cooking classes for professional chefs early in their careers and those more seasoned, as well as amateurs and food enthusiasts.  Our school provides an opportunity for chefs already skilled in the fundamentals to gain a specialisation in Italian cuisine."
Chefs visit from Italy to give one or two week seminars so the students are getting Italian training without leaving their country.  Eatalian Style Corporation also works with other culinary schools to place students – from countries such as Norway, England, and the US – in restaurants in Italy.
"The students are placed in three-month training programmes at one of our partner restaurants in Italy, where they have the opportunity to cook hands-on.  The problem with some cooking school programmes is that they place students in the best 5-star Italian restaurants where they only peel potatoes or do some small job. Since we manage restaurants and organise large scale events, the students can do a month with us planning a wedding or a month working on a regular menu."
Andrea says the key to being a successful chef is having "passion and knowing how to be at the right place at the right time".
In Assisi they manage some local hotel kitchens and some of the local restaurants, which are all run by the Friars.  More and more foreign couples from England and the U.S. are coming to Assisi to get married and choosing the traditional cuisine.
Eatalian Style representatives have travelled the globe as ambassadors of Italian cuisine, demonstrating how to best prepare Italian products, such as truffles or extra-virgin olive oil.  "We help restaurants and hotels to promote its Italian products, by organising Italian food and wine festivals, as well as training. Last year, we organised a four-course truffle tasting event in Los Angeles as part of "Italy Around the Table," which was a great success."
Eatalian Style believes in preparing traditional cuisine true to its region of origin. It starts with the table, how Italians eat a meal.  Americans put everything together, but Italians have different courses and keep the flavours separate – separate plates for separate flavours.  This is the traditional way to prepare and serve food in Italy.  There has been a trend toward more modern adaptations of the traditional dishes in Italy, but now you see Michelin chefs recreating solidly traditional Italian recipes.
Andrea added: "Our 'foodlosophy' is to teach our clients to incorporate new techniques and trends with their traditional ideas and habits already in place in their kitchens.
"When you go to the doctor for a leg injury you go to an orthopaedic specialist, not a regular doctor.  It's the same with cooking. We have a chef that just does buffet decoration.  Depending on the event we have wine experts, gelato makers, pizza makers, pastry chefs, and flower arrangers available.  Our advisory panel includes a horticulturist, nutritionist, anthropologist and food historian.  This allows for specialisation depending on the event and it brings better quality overall."
For more information visit their website at: Eatalian Style Corporation
---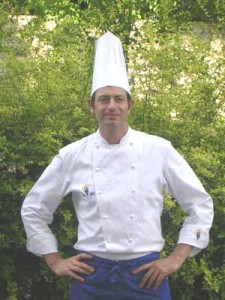 Jacky Hayler spoke to executive general director and chef Antonio Petruzzi for a greater insight into his love for Italian cooking:
Q. At what age did you first discover your love of cooking and who taught you?

A. My childhood memories are filled with parties and fun-filled family gatherings celebrated around the dinner table.  I grew up watching my grandmother baking fresh breads and preparing home made pastas, and somehow, all these memories – along with his father's guidance and support – have positively influenced my decision to become a professional chef.




Q. How are you related to Andrea and Moreno Tiberi? Is it a family business?

A. Andrea and I attended the culinary school in Assisi, we met there. We lost touch for 3 years, but when we met again we brought together different experiences with the aim of enriching lives through sharing our experiences with other chefs.




Q . How did the idea of Eatalian Style first come about?

A.  Every time I came back from a trip I realised how rich the Italian culture is with food a primary factor. From there came the idea to promote and implement the art of Italian cooking and culinary traditions worldwide.




Q. What is your signature dish or your favourite dish to cook?

A. I'm sorry but I cannot answer. It is like asking a father which child he prefers… I love all my children!




Q. Can you describe you style of cooking?

A. My cooking has to remain democratic, not arrogance in the kitchen. I like that people come to the restaurant, because I want to communicate.  I am not as able to communicate through words, my best way is cooking, not for the order, not for the tables but for the people. We are all interchangeable. Eatalian Style is not just me, the dishwasher is no less important than me, everybody has their own important parts to play in the restaurant "drama"




Q. Is it important to continue the traditions and origins of where dishes come from?

A. In my opinion good cooking is always traditional and based on the regions. The regional base is always there, because tradition gives the taste experience even if the technique is international. The style however is always very direct and personal.




Q. Why do you think Italians are so regional in their cooking?

A. Ask an Italian about Italian cooking and depending on whom you approach, you will be told about Bolognese, Veneziana, Toscana, Milanese, Napoletana etc.. The cooking of Italy is really the cooking of regions. The contrast of the character of Italian food throughout the regions is sharpened by two dominant aspect of landscape – the mountains and the sea, and staying loyal, the Italian people remain tied to their traditions. We also usually cook what we are able to find locally.




Q. Is the ingredient the most important thing or what you do with it?

A. The choice of ingredients is fundamental, the wine is important, the raw materials are what matter, but I am what that purchases.  The customer must understand we are dedicated to our craft.  A cook is such because of the touches and the way they work with the raw materials, not necessarily because they use luxuriy products; they should treat everything with the same respect from the onion to the caviar, and have to work the sugar like the salt, the blue fish like the lobster. In the kitchen the flavour is next to religion. It is the humble ingredients that provide us with many of our culinary traditions and personally I love them all.  I want raw materials of the highest quality and freshest possible.




Q. Do you only use local produce that is in season?

A. Using seasonal products is not just "ethical", it is a good way to keep the costs low. We managed the produce to keep the costs low by buying good products and respecting seasonality. The period of cherries, for example, is very short: do not put in the a la carte Menu, but on the tasting menu (4 courses), which changes every month. The asparagina in April cost me 1.5 euro per kilo, so I use only in that period.




Q. Where and when did your most memorable meal take place?

A. I remember with great fondness, my meals served on the large wooden table right in my backyard, after the grape or olive harvesting, with the smell of fire, the homemade pasta and, the aroma – something that cannot be told – only shared at the same table, with the same experience.




Q. What is your opinion of British cuisine?

A. I have never been to Great Britain, so I don't have experience to base an opinion on. I am local and I love to be local, but I have met a lot of English people who are crazy for Italian food. I run cooking lesson for them and they are so curious about Italian gastronomy and culture.




Q. Are you still very much "hands on" in the kitchen or do you take a back seat and run the business more now?

A. I still love to burn my face and do things myself, cooking is my Yoga. When I am cooking I forget my problems. I become completely involved in what I do, I want to be there in the heart of the kitchen, cooking for myself.




Q. Do you have a wife and children who you would like to pass on your love of cooking to?

A. I am in love, but do not have a wife or children. I am too involved in my job, and have little time to dedicate to something else. Cooking is communication and I pass my passion through that to all the people.
---
Learn more here about Italia Living Contributor Jacqueline Hayler