Luxurious design and impressive functionality create a work of art for making your espresso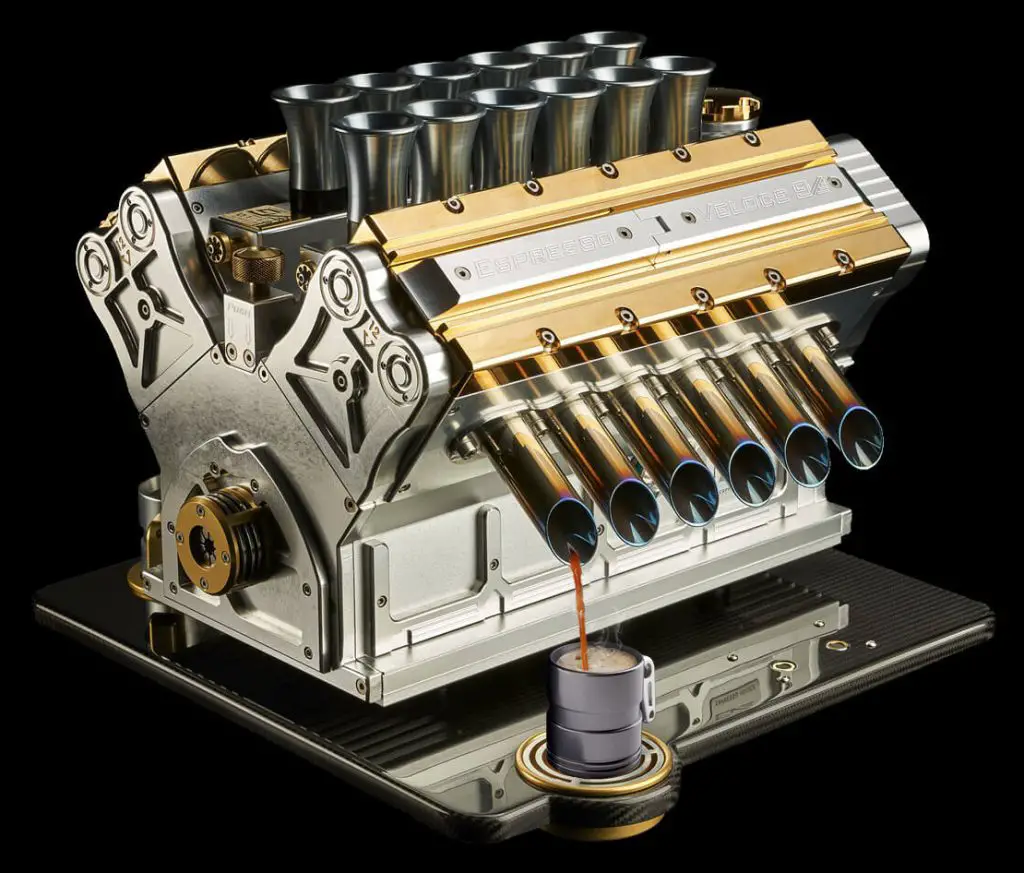 For lovers of supercars and coffee, in early 2014, Espresso Veloce introduced the Espresso Veloce Serie Titanio V12. A behemoth of an espresso machine that was limited to only 500 units and priced at around $16,000.
Now the brand is at it again, releasing the Espresso Veloce Aurum 18ct. As with the previous model, Espresso Veloce pays a glorious tribute to the early 90s Grand Prix racing engines. This artistic machine comes in a V12 configuration, with an oil filler that doubles as a grappa reservoir and dispensers that resemble tailpipes to pipe out the perfect cup of espresso and caffè corretto.
Handcrafted from common automotive materials like titanium, carbon fibre and aluminum, with an elegant touch of 18ct yellow gold that completes this appliance into a conversation piece and work of art.
The 35 Kilogram engine-block is said to be almost half the size of the actual 3.0L V12 engine which inspired it, with a length of 380 mm, a height of 340 mm and a width of 420 mm; making it easier to place on your kitchen counter than the actual engine.
The baseplate of the Aurum 18ct is made of Jet-Black high pressure thermoset carbon fibre, while the components have been manufactured in Aerospace Grade 7075 alloy, stainless steel 316 titanium, surgical stainless steel grade 304 and anticorodal 6082 T6.
The entire engine block and the cylinder heads have been finished off in anodised bright and satin silver. The intakes shine with black nickel, but the highlight of this model is the incredible touch of gold, with Nordic Gold Billet and 20µm 18ct Yellow Gold Plating on the cam covers and a few other elements.
The Espresso Veloce Aurum 18ct will be produced in a very limited run of just 10 units, each of them featuring a plaque covered in gold, with the exact number of the espresso machine in the series.
While there is no word on pricing or shipping for this stunning machine, we can expect it to cost more than the previous V12 model.
Find out more info from:  www.superveloce.co