By Pamela Marasco –
With typical Italian sprezzatura ice cream becomes an art form and as such takes on a personality that requires more than a mere labeling of chocolate or vanilla.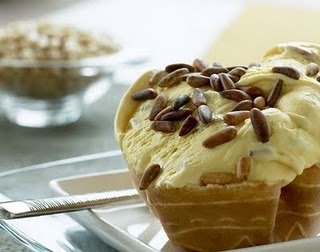 Leonardo and Alice. These are not the names of two characters from a 14th century Italian novella or a recently discovered secret diary of Leonardo da Vinci. Leonardo and Alice are the names of two flavors of gelati at Riva Reno Gelateria on Via G.Mazzini 12 in Ferrara. With typical Italian sprezzatura, ice cream becomes an art form and as such takes on a personality that requires more than a mere labeling of chocolate or vanilla. Like a work of art people take pause, gaze and in this case take a lick and if they're at Riva Reno Gelateria you hear comments like "You can feel the ingredients".  The creamy, velvety texture, intense flavors and exclusivity of product have brought Riva Reno gelato many accolades including the Best Gelateria in Italy awarded by Golosaria Magazine with more glowing reviews in Gambero Rosso, the Lonely Planet and the Michelin Guide. You can taste Leonardo (mascarpone with chocolate and hazelnut topping) and Alice (pronounced ah-lee-ch-ay) (pine nut cream with toasted pine nuts) at Riva Reno in Ferrara or at Riva Reno Gelateria shops in Milan, Turin, Venice and Florence.
Other Riva Reno specialties include Otello with chocolate, egg cream, Marsala wine, Barozzi chocolate and coffee cake, Morena a white cream gelato topped with candied sour cherries and syrup and Zafferano al sesamo with saffron cream and toasted sesame seeds. Like other gelateria in Italy, the more traditional flavors are also available. You can combine scoops of vanilla with chocolate chips(Stracciatella), pistachio, hazelnut, coffee, coconut and chocolate in a cup or a cone. Most gelateriawill offer both so depending on your preference, when ordering, ask for either "una coppa" (a cup) or "un cono," (a cone). Unlike an ice cream cone in the States, the ideal cone in Italy comes with 2 flavors (gusti) of gelato. I like to combine nocciola (hazelnut) and ciccolato (chocolate). It's also popular to order 3 flavors in a single cone or cup and they don't necessarily have to go together!
Designer gelato reaches new heights In the Tuscan hill town of Sam Gimignano. In  "la citta' dalle belle torri", the city of the beautiful towers, there is a 13th century octagonal cistern in the middle of the Piazza della Cisterna and a gelateria that serves some of the best artisan gelato in Italy with innovative flavors like Cream of Fina® Saint (cream with saffron and pine nuts), Champelmo® (pink grapefruit and sparkling wine), Dolceamaro® (cream with aromatic herbs) and Vernaccia Sorbet made with regional Vernaccia wine. The gastronomic creations at Gelateria di Piazza are limited only by the imagination of master ice cream maker Sergio Dondoli. His cups and cones are award winning creations with names like Sangue di Bue (Blood of the Ox), inspired by Sergio's first Armani leather jacket. It was a reddish brown oxblood color; his gelato, dark chocolate with cherry jam and chili pepper.
---
About the author:
Pamela Marasco is the founder and owner of Cositutti and CosituttiMarketPlace.com, a travel and lifestyle resource for Italian Food, Wine, Art and Design.