After the extraordinary success of last year, Rocco Forte's Hotel de Russie in Rome has a renewed partnership with FENDI to celebrate this years festive season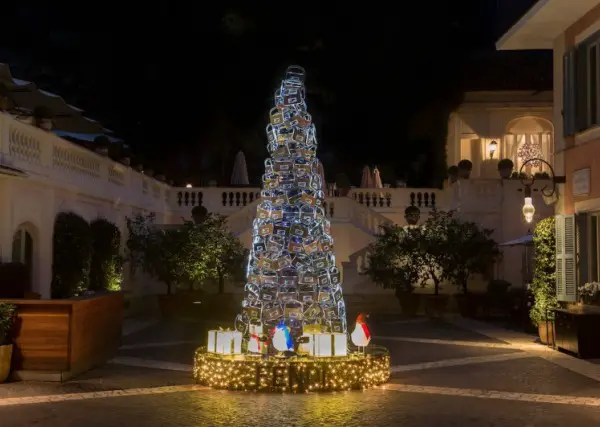 This collaboration with the globally renowned Roman fashion house is a tribute to the excellence of Italian craftsmanship and creativity.
Recreating the festive feeling of the FENDI headquarters', the luxury fashion brand has displayed a majestic five meter tall tree, made of 350 gold and silver Baguette bags lit-up by micro flash and strobe lights, in the courtyard of Hotel de Russie. The impressive FENDI Christmas tree stands on a brilliant base where three QUTWEET birds exchange glittering gifts.
From the beginning of December, the Hotel de Russie has been adorned with charming Christmas decorations and iconic multicolour embroidered bags, inspired by the latest FENDI QUTWEET collection. These limited edition bags feature geometric patterns and prints recalling Japanese origami birds wearing Santa's hats. Playing with the idea of freedom, Hotel de Russie's in house florist Sebastian Bierings has designed a special golden birdcage decoration for the hall of the hotel.
The Hotel de Russie is proud to partner with a globally renowned and utterly Roman brand that boasts a rich and influential history in the fashion world. FENDI has always represented the height of Italian luxury and truly epitomizes the excellence of Made in Italy. This year's new Bag Buggies concept is a collection of irresistible and playful lucky charms and accessories that have invaded FENDI boutiques worldwide and will spread their allure to the magical atmosphere of the Hotel de Russie during the Christmas holidays. Each Bag Buggies is unique: these elegant fur lucky charms have various facial expressions and are available in a multitude of colours to convey their own distinct personality. They are sure to entice the cosmopolitan and fashionable clientele of the Hotel de Russie. FENDI's values of savoir faire, femininity and creativity make this fashion brand the perfect partner to complement the Hotel de Russie's uniquely Italian art of simple luxury.
In addition, during the festive period, guests staying in suites will find a special gift upon arrival. These FENDI amenities will enrich the experience of guests staying in suites, giving them a truly memorable escape.
Visit their website: https://www.roccofortehotels.com/hotels-and-resorts/hotel-de-russie/