A bold watch Captain Jack Sparrow would likely wear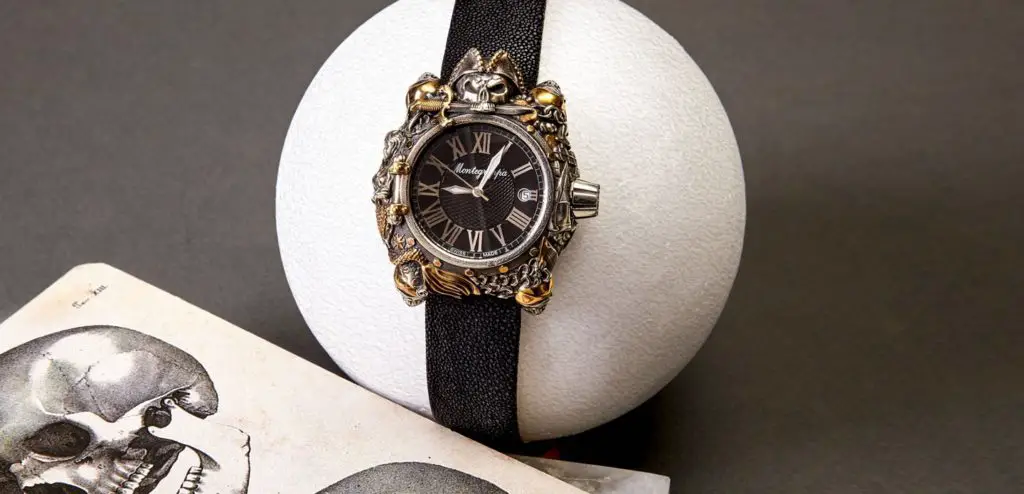 Italian luxury lifestyle brand Montegrappa is famed for creating writing instruments and wristwatches with polarizing and unique designs. After creating the bold Chaos watch collection designed in collaboration with Sylvester Stallone, Montegrappa has now introduced another flamboyant watch with an over-decorated case. The Montegrappa Pirates watch is a timepiece designed to accompany the limited-edition pens of the same name in the brand's popular Cult Collection.
To compliment the Pirates writing instruments collection, the Pirates wristwatch is embellished with precious metal overlays that reproduce the motifs of buccaneer culture in intricate detail. The die-cast 43 mm case is finished either in burnished Sterling Silver or in Sterling Silver with Vermeil yellow gold accents. It captures the eye, for every surface is festooned with piratical elements. At the top, the grinning skull known as the Jolly Roger holds a dagger in his teeth, a small skull sits at each corner, in between are heavy marine ropes, swords, chains, mermaids, sails and other images and items associated with pirates, while the crown bears the pattern of the ship's wheel.
Although the watch's launch coincides with the release of the Pirates of the Caribbean: Dead Men Tell No Tales film, it might or might not be coincidental.
With the continued attraction to pirates, these are fun watches for certain people – possibly those who already have a Chaos watch or are a Johnny Depp fan. The Montegrappa Pirates watches will be produced in limited editions of 88 pieces each. The version in silver will have a price of $4,200 and price for the silver with vermeil accents will be $4,500.
More info and ordering, visit: Montegrappa Pirates Watch Collection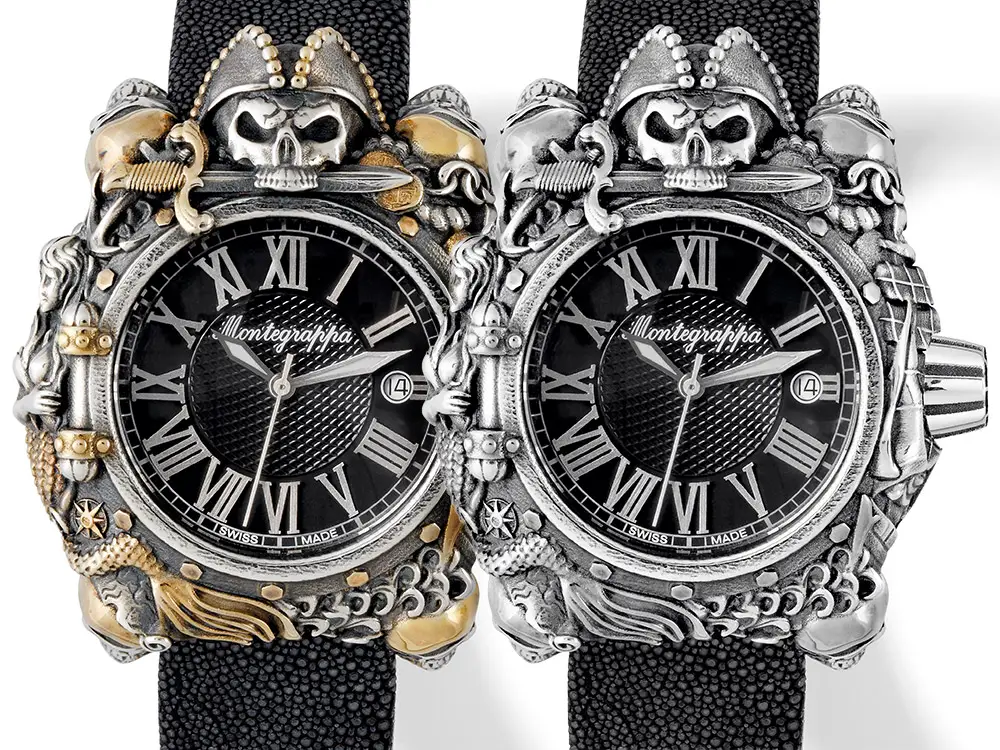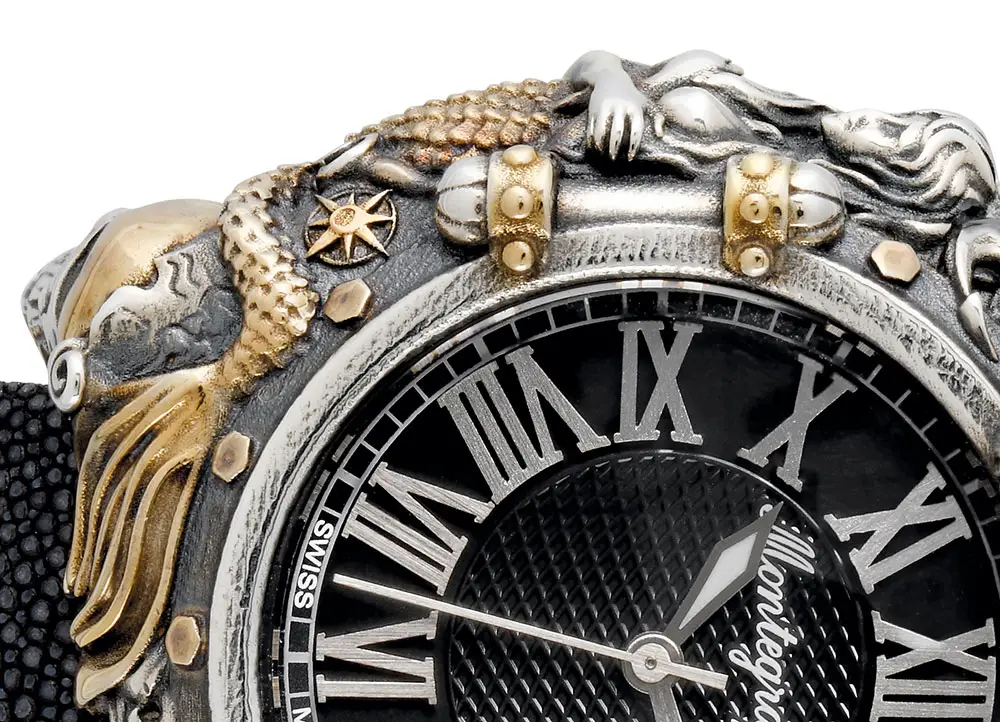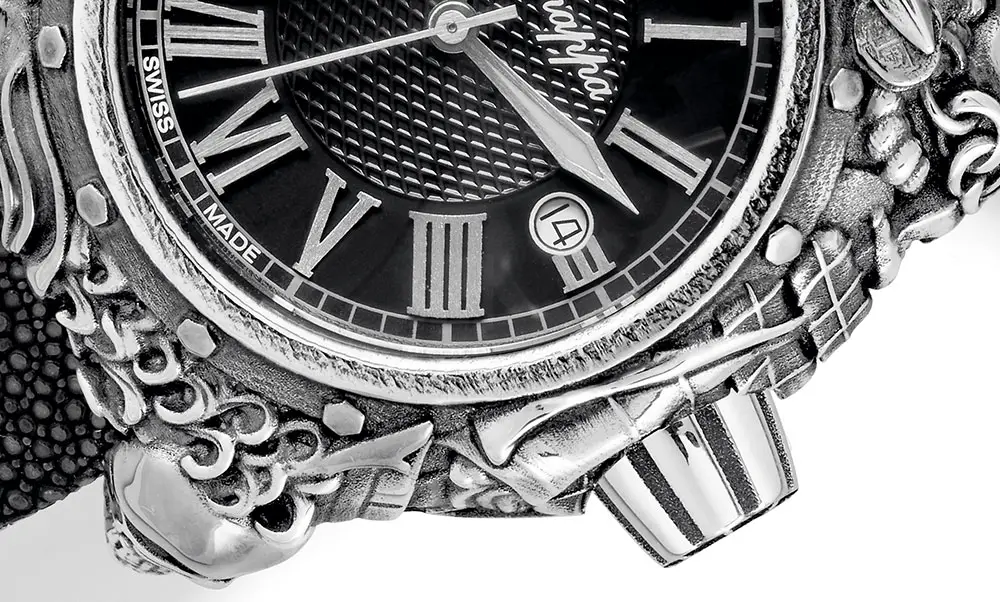 ---

ELMO & MONTEGRAPPA S.p.A.
Via Ca' Erizzo 43/45
36061 Bassano del Grappa (VI) – ITALY
Phone: +39 0424 522232
Fax: +39 0424 523975
contact@montegrappa.com
Website: www.montegrappa.com