Providing comfort without lack of sensuality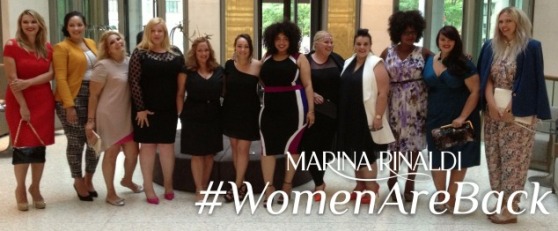 Search for #WomenAreBack on Twitter right now and you will discover the excitement of the new campaign from high end plus size fashion brand Marina Rinaldi.  The project, which will be revealed in full over the coming months, is a collaborative effort involving twelve of the top fashion bloggers from around the globe.  The ladies all recently spent time in Milan working with Marina Rinaldi.  Participant Georgina Horne provided commentary on the event on www.fullerfigurefullerbust.com discussing her fellow women of the hour; Katya Zharkova, Tanesha Awasthi, Melike Çarpatan, Ditte Vallø, Roberta Scagnolari, Iris Tinunin, Gabi Gregg, Shila Kreuzer, Stéphanie Zwicky, Marie Denee, and Edith Dohmen.  They will all assist in delivering the campaign, and spread the word about Marina Rinaldi which is already a familiar sight in shopping arenas such as Rome.  More importantly they will continue the Marina Rinaldi ethos; that fashion is for all women of every body shape and size.
The Birth of Plus Size Recognition
It was on this premise that the fashion range was created in 1980, as part of the Max Mara Fashion Group.  Taking its name from the grandmother of group founder Achille Maramotti the aim of Marina Rinaldi was to "create garments in line with fashion trends, synonymous of quality, combining the finest fabrics and tailoring expertise", for curvy women.  The brand was the first to use the phrase "plus size" as opposed to the traditional "out size".  Advertising began in 1981 in an attempt to bring a whole new concept to fashion; until then any communication regarding garments for larger size women had been virtually non-existent.
The Influence of Fashion on Body Image
Even in the face of this adverse environment Marina Rinaldi took root and has continued to grow.  The ensuing decades have seen the introduction of collections such as Marina Rinaldi Voyage in 1998, sophisticated travel wear, and Marina Rinaldi Luxury in 2008, handmade detailing on coats and cloaks in precious materials.   The brand has an impressive standing in an industry which has traditionally hit the headlines when being accused of portraying thin as beautiful.  There are on-going arguments about links between this philosophy and eating disorders and over the years fashion models themselves have succumbed such as the famous case of Luisel Ramos who died of heart failure caused by anorexia nervosa.  Eating disorders are far more complicated than ultra-thin models and airbrushed celebrities of course. There are many contributing factors; just this year research which informs eating disorder treatment has suggested genetic links to alcoholism and brain size. It is of course good to see any section of the fashion industry playing its part in attempting to provide its followers with a positive body image; Marina Rinaldi strives to do just that.
Comfort and Sensuality for Curvier Women
Women the world over can experience this philosophy as Marina Rinaldi is a global brand; on July 9 2013 it announced that its latest store in Lisbon, Portugal is scheduled to open its doors in March 2014 replacing the temporary store which is already in place.  Bloomingdales is one the latest high end retailers to stock this range for the curvier woman.  In Italy the range of retail opportunities for Marina Rinaldo clothing is vast, including an outlet in Reggio Emilia where Maria Rinaldi herself owned a dressmaker's shop in 1850.  Included in the range of fashion garments available are items derived from the brand's 2012 fashion innovations.  The majority of women desire a feminine sexuality from their lingerie and the idea of Shape! garments is to provide that.  The use of a soft elasticated cotton fabric allows the female body to be sculpted in a firm but comfortable manner.  This lingerie is the perfect accompaniment to the Curvy Dress, with a nod to the Little Black Dress, a clothing item which enhances feminine curves as its iridescent fabric slides over them.  Marina Rinaldi certainly brings sexy and sensual to all sizes, together with comfort and confidence.  Since its inception in 1980 this Italian fashion brand has shown the world its plus size beauty.  The #WomenAreBack campaign is sure to capture public imagination over the coming months as it continues to be highlighted across social media and via the blogging activities of those participating.  This can only be a good thing in helping to create a healthier perception of body image.
For more info on Marina Rinaldi visit: www.marinarinaldi.com