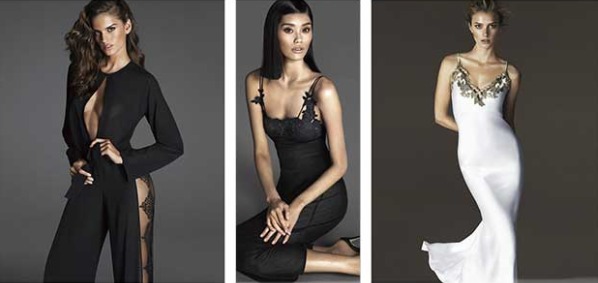 The luxury intimates segment is growing at a faster pace around the world than the lingerie market itself, according to a new report by Fashionbi. Reports also show that the largest market for lingerie is North America and the United States, while in Europe the highest growth occurred in Germany and Italy.
"[The luxury] sector is supposed to grow leaps and bounds," said Ambika Zutshi, CEO of Fashionbi, Milan. "Today's woman is conscious, working and needs comfort at all stages of life. She also needs to be and feel sexy all the time," she said. "She is independent and able to afford all charms of life to spoil herself and to seduce her man."
Fashionbi's Undressing the Lingerie Market: Evolution and Global Perspectives report used data from individual case studies and ecommerce platforms.
Italian lingerie maker La Perla plans to lead the way and stay ahead of trends. The house has introduced new strategies to become one of the most popular brands in the luxury market sector. The brand has focused on expanding distribution in 2015. In 2014 alone, 30 new stores were opened around the world.
In their advertising campaigns, they have focused on portraying La Perla as an understated and sophisticated lingerie brand that appeals to refined women. In keeping with this image, La Perla recently launched a made-to-measure service that highlights the brand's heritage as a luxury atelier. It has also re-launched a loungewear and beachwear collection for men that debuted in Florence in 2014.
La Perla expanded its traditional lingerie line to include honeymoon lingerie and even some ready-to-wear clothing. By introducing new products, brands can ensure that they remain in consumers' minds and stay relevant in the industry.
"The market of plus size and shapewear underwear is booming," Ms. Zutshi said. "These two categories are expected to rapidly grow due to the rising level of obesity and the increasing popularity of ecommerce shopping among the plus size customers.
"Brands are making efforts to attract new customer groups by offering attractive and sexy shapewear underwear in order to make it more desirable," she said.
Few luxury brands offer shapewear lines at this time, making it the ideal venture for a company looking to uniquely penetrate the market.
By using new strategies while keeping up with current trends, brands can gain an advantage and more successfully connect with consumers. For example, Italian lingerie maker La Perla offers made-to-measure services at select stores to give consumers a bespoke experience.
"Lingerie brands," Ms. Zutshi said, "are expanding further to launch home wear and swimwear lines as well to open new opportunities on the basis of already established trust in the market.
In addition to expanding product lines of the brand itself, in the age of social media, one must explore wider experimental avenues for digital advertising to increase awareness, traffic and revenue.