Investment news bringing excitement to the luxury boardrooms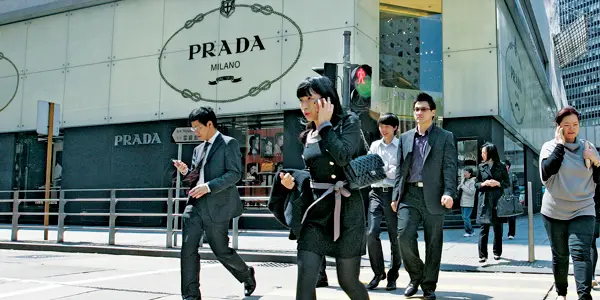 After more than a decade of derailed attempts to go public, Prada finally succeeded in an IPO this June. Salvatore Ferragamo also launched an initial public offering this month, on the Hong Kong and Milan stock exchanges respectively. The IPO is becoming increasingly popular in the luxury world, particularly in fashion, with another Italian fashion house Brunello Cuccinelli also rumoured to be listing in 2011/2012.
Many luxury brands today are realizing that Hong Kong is the new global hub for luxury IPO's.
The future for luxury goods is now in Asia. China has already surpassed Japan as the second-largest luxury market segment, and it should not be long before China ousts the United States from the top spot.
Listing: Salvatore Ferragamo
Still majority-owned by the Ferragamo family, Salvatore Ferragamo SpA, recently presented its request to list its shares to the Italian stock exchange, dismissing reports of a possible listing in Hong Kong. Mediobanca Banca di Credito Finanziario SpA (MDIBY, MB.MI) and J.P. Morgan chase & Co. (JPM) will serve as coordinators and joint bookrunners for the deal.
Listing: Moncler
Moncler received clearance from the Italian bourse for its planned €500 million initial public offering, the Milan stock exchange said. The company has begun marketing the share sale to potential investors and will start a round of presentations in Europe and the US. The IPO will be made up mainly of existing shares, mostly from U.S. private equity firm Carlyle, which owns 48 percent stake of the company.
Speculation: Brunello Cucinelli, IPO
Following news of IPO's from Prada, Moncler and Ferragamo, Brunello Cucinelli is rumoured to be the next Italian luxury brand looking to go public. Founder and CEO Cucinelli has confirmed that there is a project on the table that will be co-ordinated by Mediobanca and Merrill Lynch, however there is currently no official timeline or valuation. Hints are 2011/2012.
Speculation: Pomellato, IPO
Again following the current Italian suit, jeweller Pomellato plans to sell shares in an IPO, according to CEO Andrea Morante. "Our objective is to take Pomellato public," Morante remarked, amid reports that shareholder Damiani SpA (DMN) was seeking to divest its stake. However he also remarked that there are no current talks to sell the company and that an IPO project was not likely to launch until 2013.
Launch: Amex, Vente Privée
Following the success of Vente Privée's European business, American Express have formed a joint venture with the French online luxury goods retailer to launch a similar service in the US market. Ownership of the new venture will be equally split between American Express and vente-privee.com, however, no further financial details were disclosed.
Investment: Gilt Groupe
Flash sales company Gilt Groupe has raised $138 million in a massive new venture funding. Led by a $62.5 million injection of funds by Japan-based telecom, Softbank Group, new investors also include Goldman Sachs, New Enterprise Associates, and Draper Fisher Jurvetson Growth. Gilt Groupe will also work with Softbank to create a 50-50 joint venture called Gilt Groupe Japan.
Jimmy Choo and American leather goods firm Coach will be following the Prada story carefully, for they too are considering going in for IPOs, though not necessarily in the Asian sector.
One thing we know for sure, is we will see more high-profile luxury IPOs in the coming months.