A Miami majestic masterpiece at a recently reduced price for a second time, now headed to auction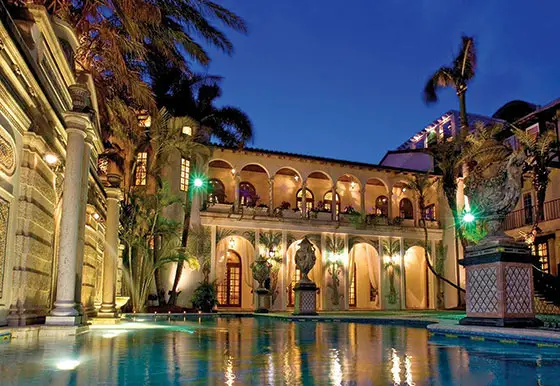 The amazing property now called Casa Casuarina, best known as Gianni Versace's world famous Versace Mansion, is an opulent gem in Miami, Florida that can be yours to enjoy.
Recently on the market, and represented by Coldwell Banker Real Estate, the late designer Versace incorporated his artistic vision into the luxury mansion's many expansions. The 10-bedroom, 11-bathroom, gated property is highlighted by a 54-foot long, thousand mosaic pool lined in 24-karat gold.
In true extravagant Versace style, the European craftsmen villa on Miami's world famous Ocean Drive boasts hand-painted walls and ceiling frescoes inspired by artists around the world, with custom tile mosaics throughout, fountains, sculptures and chandeliers adorning every room, ornate statues and an open air courtyard.
UPDATE:
The original asking price was $125 million and reduced to $100 million – it was since reduced again to $75 million and is now headed to the auction block.
Facing the Atlantic Ocean, this majestic masterpiece is located at 1116 Ocean Dr, Miami Beach, FL 33139.
The villa has some sad history associated with it, as the fashion icon Gianni Versace was shot dead in 1997 on its steps. The company that is managing the sale of the trophy home has assessed the value of the property to be above $50 million.
Current price listed is last listing price and is used for reference only. This is now a U.S. Bankruptcy Court Auction scheduled for Tues., September 17th. Final price determined via the live auction event and must be approved by U.S. Bankruptcy Court. Contact listing agent for full terms. Bidders must be prequalified.
SALE UPDATE 09/17/13: Sold for $41.5 million to the mortgage holder, VM South Beach, by Fisher Auction 
View the Official Listing