A luxurious watch in honor of Italian Astronaut Samantha Cristoforetti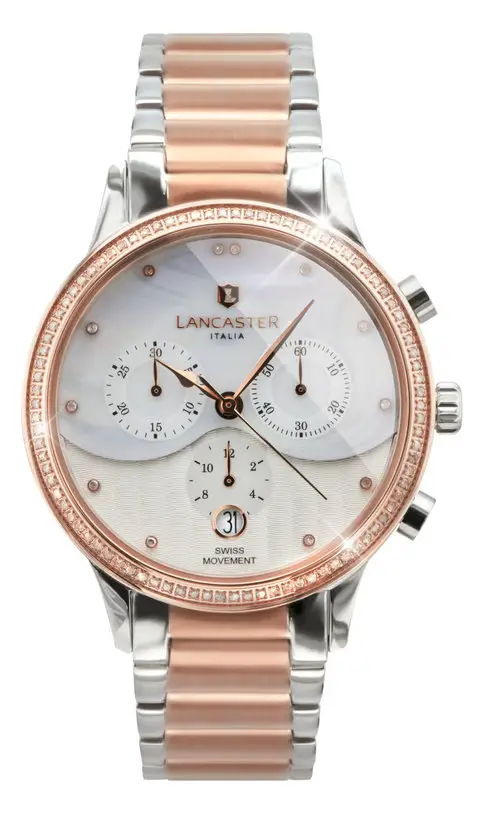 After this years successful showing at Baselworld 2015, Italian watch brand LANCASTER ITALIA has started the distribution in all their watch and jewelry stores of GALAXI. The new collection of "LUXURY" watches with their new advertising campaign — "FALLING IN LUXURY" by LANCASTER ITALIA.
GALAXI was born as a tribute for the actions realized by Samantha Cristoforetti, the Italian Astronaut admired all over the world and the first Italian lady in the crew of the European Spatial Agency.
GALAXI, with the latest technological design updates & innovations, remains faithful at the original spirit of LANCASTER (luxury &  affordable to all) with a new elegant and moderate look and pretty near, for some points, to the highest rank of watchmakers.
The white mother of pearl dial based on two levels, classic hands, the ring & dial with 102 diamonds in total, calendar at 6h and chronograph RONDA Swiss Made movement, give a unique style that is often unreachable to watch collections such as these at this consumer price point.
This GALAXI's evolution is presented with rose gold plating & bicolor band. Available also is the leather strap version with silk effect that gives a pleasant soft touch sensation.
The MSRP of GALAXI starts from $ 960.00
For more info on this new model and ordering, as well as viewing other LANCASTER ITALIA collections, visit: www.lancasteritaly.net
GALAXI Specifications:
Registered design
Steel case, screw caseback
Case diameter mm. 38
Tickness: 10 mm.
Case lenght with loops mm. 45,00
Chronograph movement RONDA Swiss Made Caliber 5030D
90 diamonds inlaid on bezel & 12 diamonds on dial
Total weight : 0,64 carats
Based on two level, superior level made with genuine mother of pearl
Water resistant 5 atm.
Versions: Solid two tone metal band