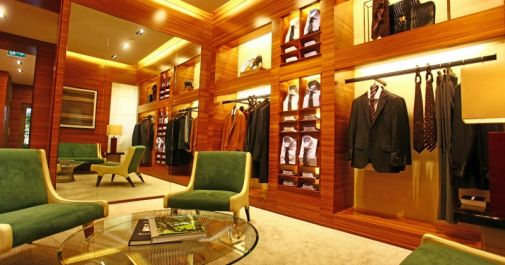 MARCH 2012 –
After launching nearly 15 years ago its first Zegna store in the Italian capital in 1997, Ermenegildo Zegna has opened its new Flagship Store – an entire building in the center of Rome, at 58 Via die Condotti.
The new store, designed by Zegna's in-house architects based on the creative concept developed by architect Peter Marino for the Zegna Global Store in Milan, showcases the full spectrum of Ermenegildo Zegna collections within 300m2 (3200+ Sq Feet) of luxury selling space. All of Ermenegildo Zegna's diverse offerings, which range from formal to casual wear, accessories, among which the new collection of Monterubello luxury watches, and fragrances, are displayed within the store's four floors. 
The interior is characterized by an impressive staircase designed by renowned architect Peter Marino. The staircase features winding steps made of different varieties of marble, limestone and wood that are partially enclosed by mirrored steel. The stacked design is welcoming and engaging, allowing customers to clearly see above and below from any of the store's sales floors.
The new Zegna flagship store in Rome also features an Couture and Made to Measure room, an intimate and luxurious space that houses modernist furnishings, including a pair of lounge chairs and a sofa designed in 1964 by Gio Ponti for Cassina, for the hotel Parco dei Principi in Rome. This original furniture compliments artwork specifically commissioned for the stores such as Frank Thiel's modern interpretation of a historical loom from the wool mill in Trivero.