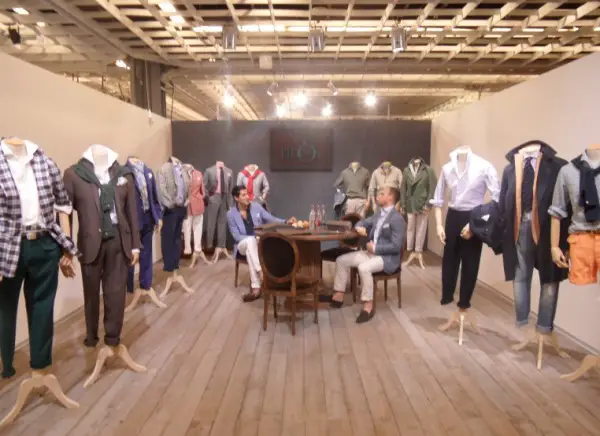 Unfortunately, not every man in the world can afford the best-in-the-world suits from top Italian clothiers.  But one sought after menswear brand of the affluent, Isaia, has expanded their client base.
Eidos Napoli is a recent addition to the Isaia family, debuting in the fourth quarter of 2013. Eidos is in the truest sense a younger brother to the Italian powerhouse. Though similar to its older sibling, the collection is focused more on a younger guy. Not to say that the target is young per se, Eidos is for those that love what Isaia offers in terms of style, but hasn't necessarily graduated to that level quite yet.
The collection features the expected versatile tailored pieces and impeccable suiting, but also includes expanded sportswear offerings geared towards filling out a more complete wardrobe.
The collection is designed by Antonio K. Ciongoli, who earlier worked as a deputy creative director for Michael Bastian's designer collection as well as the Gant by Michael Bastian line. According his words in comparison to the "big brother" Eidos' idea is to be a little less polished, a little more rugged, a little more broken-down and patina-ed than the Isaia main line.
Eidos is priced below main-line Isaia, but there's not a huge sacrifice in quality. The collection is made entirely in Italy at another of company's factories that is located between Naples and Rome. The higher-priced Isaia collection is made entirely at company's original manufacture  just outside of Naples. Regardless of where they are made, both offer great tailoring that is made with a high level of attention to detail.