New Sessantesimo special edition will debut at the 2017 Geneva Motor Show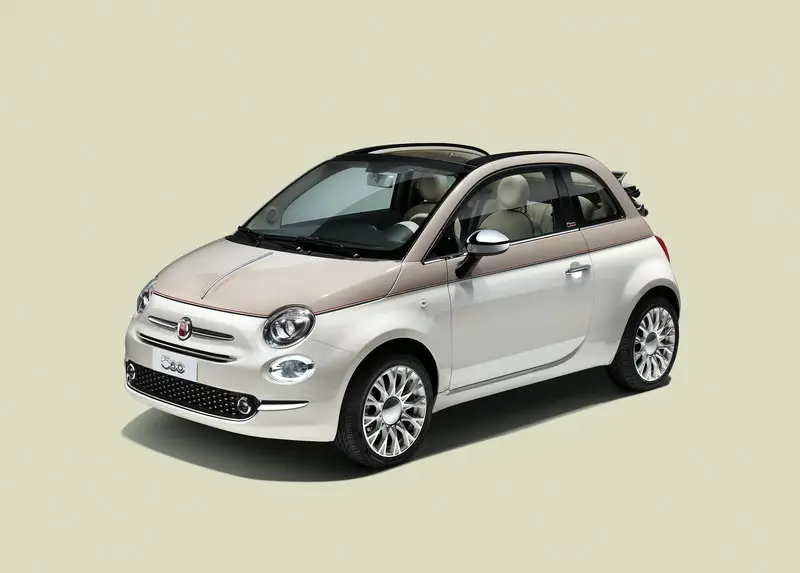 Fiat will celebrate 60 years of the 500 at next week's Geneva Motor Show with the reveal of the 500 Sessantesimo – a limited, special edition version of its supermini paying tribute to the original car released in 1957.
The Fiat 500 Sessantesimo, which is Italian for 'sixtieth', comes as a convertible only and will go on sale in the EMEA region markets from March 9, with deliveries kicking off from July 4.
Fiat will produce just 560 (500+60) cars, and all of them feature a new dual-color paintwork named Dolcevita, with a three-layer white for the lower body, and pastel Ivory for the upper.
Exclusive 560 badging is found dotted around the car's exterior and interior, and it will ride on new 16-inch alloy wheels.
Ivory leather seats with contrasting burgundy seams are in the cabin, alongside dual-colour car mats and a retro vinyl dashboard. More contemporary additions include a leather multi-function steering wheel and a 7-inch touchscreen infotainment system with Bluetooth, satellite navigation, plus Apple CarPlay and Android Auto compatibility. The Sessantsimo also gets rear parking sensors and automatic climate control.
Ivory leather with contrasting burgundy seams, and dual-color floor mats deck out the inside.
The Sessantesimo 500 will have a selection of two petrol engines: the 69 PS (68 HP) 1.2-liter and 85 PS (84 HP) 0.9-liter, alongside the 95 PS (94 HP) 1.3-liter MultiJet II diesel.
No prices have yet been revealed.