Protect your skin against the drier air and cooler temps with these luxurious products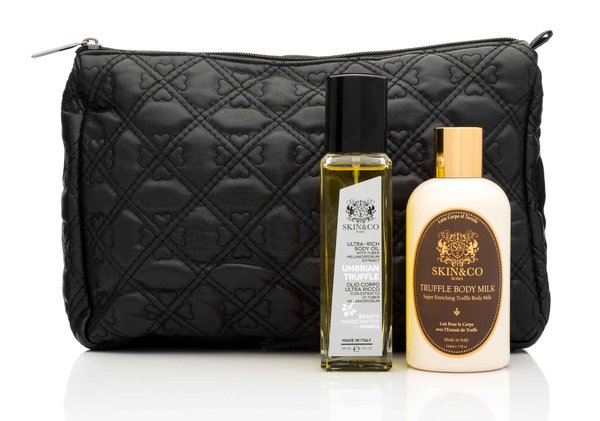 As beautiful as Autumn is…the weather does take it's toll on your skin.  This is the time to begin protecting your skin against the drier air and cooler temps.
There is so much to love about the SKIN&CO Truffle Body Milk moisturizer. Not only does it hydrate your skin all day, but it has an incredible truffle scent that is complimented by an array of earthy and gourmand notes.  Created to be food for your skin, Truffle Body Milk is fortified with antioxidants and essentials for your skin's health, especially going into the cooler fall weather season.
Take your skin on a luxury trip while boosting the skin with potent antioxidants to bring back tone and firmness. It combines premium ingredients including truffle extract, olive oil shea butter, argan oil and hyaluronic acid. The silky formula dries quickly and hydrates all day while covering your skin in a soft shimmering finish and draping it in the brand's signature truffle scent, an earthy, sweet and luxurious fragrance.
To compliment the Body Milk which is best used after an evening shower, the Umbrian Truffle Body Oil is great in the morning and throughout your day.  SKIN&CO Roma Body Oil is a light, rich, aromatic oil that deeply hydrates skin while delivering potent antioxidants. It absorbs upon application without clogging your pores, delivering a satin finish and overall healthy, youthful appearance.
You can purchase both now in this super hydrating kit:
SKIN&CO Truffle Body Milk and Body Oil