Relax and rejuvenate in an exclusive location immersed in the charming Umbrian countryside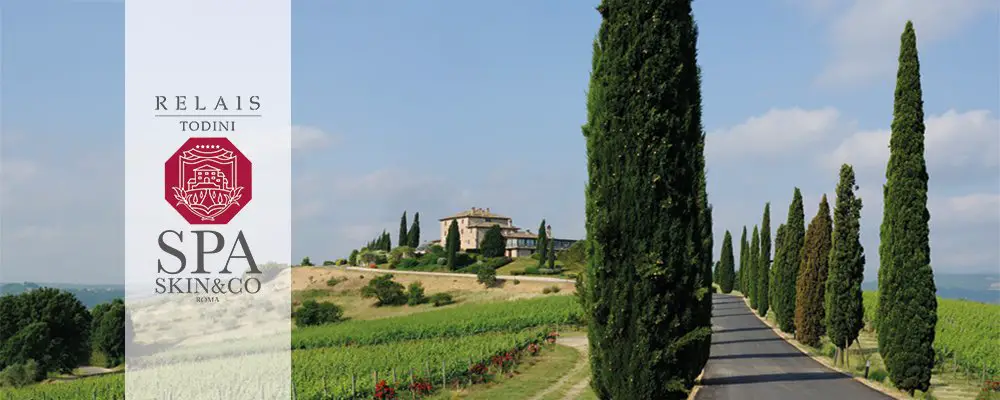 Relais Todini sits on a hilltop surrounded by the estate's vineyards. Immersed in a warm and welcoming environment with its stone walls and terracotta tiles, frescoes, fireplaces, tapestries and a combination of modern and period furnishings which make the communal spaces and the 12 rooms / suites quite unique with all possible commodities.
The building has light and spacious rooms, indoor and outdoor relaxation areas, a reading area, a meeting room, an outdoor swimming pool with an amazing view, a tennis court and a gym.
Services include a well-being centre , which is run by their in house team of professionals and offers a wide range of massages and personalized treatments with SKIN&CO products, a suite dedicated to wine baths, a chromo-therapic Turkish bath and a striking outdoor maxi heated Jacuzzi with views over Todi.
In an exclusive location immersed in the charming Umbrian countryside, guests can choose from a wide range of treatments that have been designed to evoke harmony and relaxation.
Their specialized staff will take care of guests, pampering them and suggesting the most appropriate SKIN&CO treatments for their needs.
The SKIN&CO SPA at Relais Todini is the first Truffle Spa in the world. The experience will begin in the relaxation area while sipping refined infusions. Guests will then enter the Turkish bath with chromotherapy. Guests can also relax in the max Jacuzzi or sip cocktails by the pool.
The experience will then continue in the "Truffle Suite", where guests will soak in wine and truffle extracts in the wooden tub whilst enjoying a glass of "Rubro" from the Todini winery.
Daily tours of SKIN&CO Showroom & SKIN&CO Museums can be arranged.
Book your stay below, and for more on SKIN&CO products, visit: https://skinandcoroma.com