In Tuscany, beauty is never in short supply – even as the years pass
Tuscany wouldn't be Tuscany without its hilltop towns. You know the ones, the small Medieval hamlets perched precariously on verdant green hills, accessed by winding roads fringed by cypress trees. These towns are the essence of Tuscany itself, places that have remained unchanged for centuries. So much so that to visit one is to understand something of the nature of Tuscany itself.
But which one to visit? To answer this question we've gone in search of the ideal hilltop town. A place where you can savour the perfect cocktail of history, picturesque squares, and amazing views. Somewhere that lives on in the memory long after the postcards have faded.

The first on our list is the inimitable San Gimignano, a UNESCO world heritage site that has earned the nickname "Manhattan of the Middle Ages", thanks to its towers. Fourteen of them are still standing today and they have been guarding this small town, located 35 kilometres south of Florence, since the 13th century. Built for defensive purpose in Medieval times, the towers and walls, now give the town its unique aesthetic value. And the feeling that you have stepped back in time.
Once you step inside the Medieval gate, you enter a world of cobbled streets, beautifully preserved ancient buildings and towers, and a square that seems to have no business existing in the 21 st century. It's an experience, but to make it even more thrilling, you can climb the Torre Grossa and get a view over the city walls and the valleys beyond.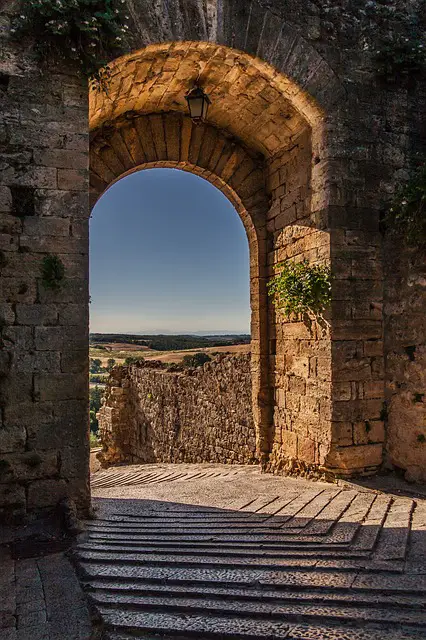 But San Gimignano isn't alone in its ability to conjure a Medieval atmosphere. The tiny hamlet of Monteriggioni, once served as a castle to protect Siena's territories against its rival Florence. The set of walls that enclose the town have been beautifully maintained, and the city walls that crown the green hilltop are a sight you won't quickly forget. The kids will enjoy a small museum where you can try on a knight's armour and feel just like a Medieval warrior.

The other celebrity on the hilltop town trail is scenic Cortona. Frances Mayes put in on the tourist map when she wrote her bestselling memoir "Under the Tuscan Sun" in which she describes the exciting experience of moving into, and restoring, a rundown Villa in the countryside near Cortona, in a south-Eastern corner of Tuscany.
Not that Cortona needs any selling. Perched spectacularly on the top of a hill, with the Renaissance church of Santa Maria Nuova sitting like a jewel below, you can see why its been a place of pilgrimage for the discerning visitor. There are ancient Etruscan walls, a Medieval main square, tiny, steep lanes. All rounded off with breathtaking views over the valleys.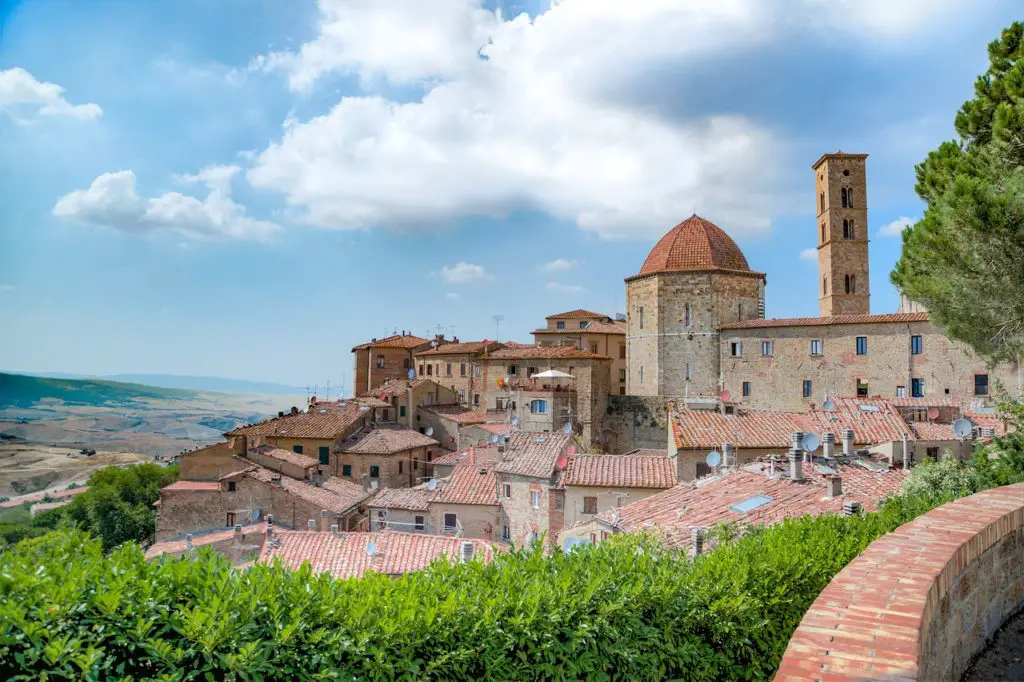 Onto Volterra, another Tuscan town which has been mentioned in a bestselling novel. Stephenie Meyer chose this town as a home town for the ancient family of vampires in the Twighlight saga. Volterra, that has a long history dating back to the Etruscan, is truly the perfect setting for a fantasy novel. Its unlikely balancing act on the Balze "cliff" makes it a real contender for best hilltop town and the austere Medieval buildings are a real delight.
Its old buildings, narrow lanes and ancient remains include an Etruscan city gate and Roman theatre, all of which speak of a prestigious past. Today you'll find plenty of atmosphere and artisans working the beautiful alabaster, a translucent calcite used for lamps and ornamental objects.
Finally Montalcino, a town that had to be on the shortlist. It has two aces up its sleeve; an imposing Medieval fortress dominating the town centre, and top quality wines that make it famous worldwide. The Brunello di Montalcino is only produced in this part of the world, and it's one of Italy's most prestigious and expensive wines. Of course there are plenty of opportunities for wine tasting if you visit scenic Montalcino, so wine enthusiasts will have a field day.
In Tuscany, beauty is never in short supply. But once you've seen more than one hilltop town you may come to the conclusion that the real winner here is Tuscany itself.
---
Written by, Ben Carson
Ben Carson is a travel writer based in Florence, and co-founder of the website LoveFromTuscany.com, an insider's travel guide to Tuscany.