Embedded in a landscape of rare beauty and featuring simple yet luxurious pleasures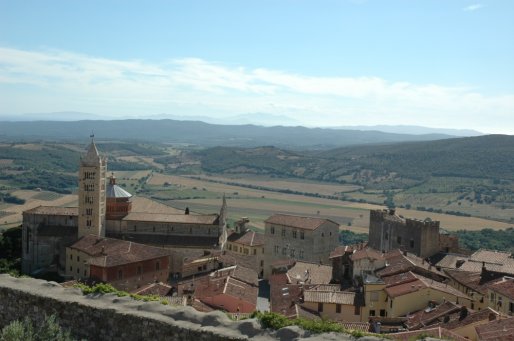 There is more to Tuscany than Florence, Siena and Pisa. As beautiful as these cities are, they make up less than half of the true splendour of the region. Down south, the iconic rolling hills of a million Hollywood films are exchanged for snow-dusted mountain tops and secluded beaches. And there's not a cedar tree in sight.
This is the Tuscan Maremma, a wild and unspoilt destination shaped by brigands and butteri, the Italian cowboy, where the tourist menu remains a blasphemous affront and centuries' old traditions and loveable small town festivities are never too far away.
In this unforgettable and authentic environment, Massa Marittima still manages to be in a league of its own, eclipsing almost every other city in the Tuscan Maremma with its beauty and fame.
Some Maremmani call the city the black sheep of the region because she has exchanged the agrarian charm of her neighbours for an atmosphere that unites artistic splendour with fine living, rich history with modern style and unfussy provincial dining with avant garde interpretations.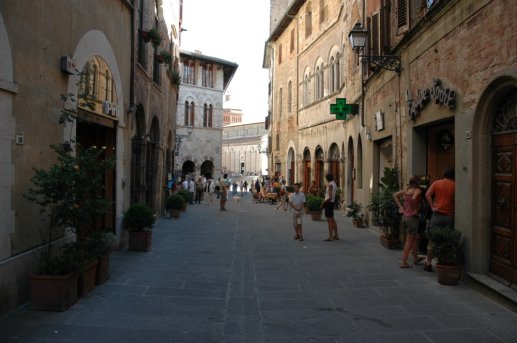 But fortune has always favoured Massa Marittima. In the 13th century, it was the only independent municipality in the region, welcoming Tuscany's noblest families and most inspirational artists, while those around her were squabbling over feudal rulers and land taxes.
Desired by all, the city would become the 'figlia nobilissima' (noble daughter) of Pisa and Siena. And at less than two hours drive from both the Leaning Tower and the Piazza del Campo, tourists still can't get enough of her.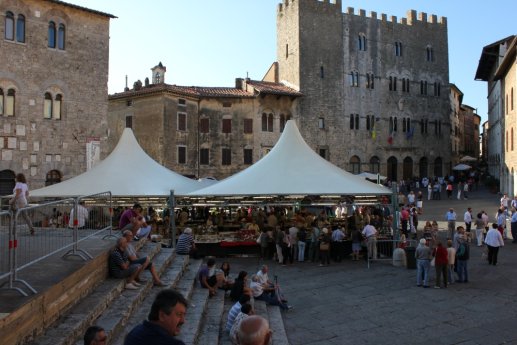 Regardless of the centuries that have passed, Massa Marittima remains a true medieval city. Nowhere is this more obvious than in the main piazza, Piazza Garibaldi. Here the Palazzo del Comune masquerades as a Romanesque fortress complete with turrets, while next door, the regal Palazzo della Podestà is stamped with the coats of arms of the Capitani di Giustizia (Captains of Justice).
Further down, there's a slightly unsavoury shock to be had in admiring the Fonti dell'Abbondanza, where a rare 13th century fresco, the Albero della fecondità, was recently discovered. The fresco's title literally means Tree of Fertility, depicted here as bearing a glut of penis fruits, collected by the eager women below.
But its the sunset and vanilla cream-coloured Duomo that enchants the tourists in this piazza. The marbled masterpiece honours patron saint San Cerbone with none of the restraint shown in neighbouring churches. Inside, the cavernous halls are decorated with sumptuous gold-tipped paintings and intricately carved columns.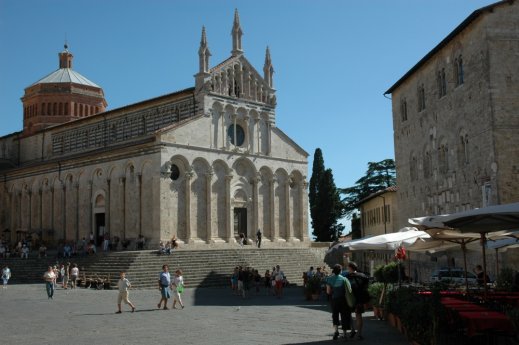 Like the city itself, Il Duomo is neither modest nor muted. But no matter how grand Massa Marittima may appear, it still enjoys some of the simpler pleasures of Southern Tuscan life, you just have to stay awake long enough to see them.
In the evenings, when the tourists are safety tucked in their beds, the Massetani reclaim their city. There is nothing more Italian than a languorous dinner shared with friends and Massa Marittima has more than enough amazing restaurants to discourage anyone from eating at home.
With no intentions of turning in early, the Massetani walk off their hearty meal down the Via della Liberta', taking advantage of the stores that stay open late just for them, their display windows lighting up the historical palazzos in the strip.
But regardless of where they live, the Massetani always end up in Piazza Garibaldi, drawn to the music of the impromptu concerts in the piazza. The pace is relaxed and no one seems to be able to get more than a metre without meeting someone they know.
While I sat on the steps of Il Duomo, trying, and failing, to blend in, I was completely taken by the beauty of this city after dark. The Massetani are born with what can only be described as an enviable sophistication and gregarious attitude that allows them to let even their children stay up late without a care in the world.
Of course, they pay for it the next day, and Massa Marittima is a deserted city until 11am on most weekends. As much as I love the city's nocturnal brilliance, I admit there's a certain enjoyment to getting up early on a Saturday morning, if only to be amused by the fresh and eager tourists itching to see the beauty of the city and the bleary eyed locals who stumbled into the neat little cafes for a very late morning coffee and cornetto.
---
By Elisa Scarton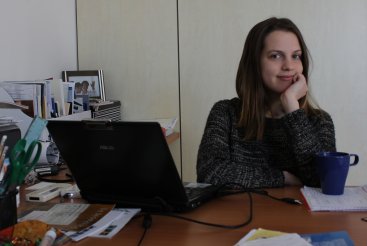 Elisa is an Australian journalist who came to Tuscany for a year, fell in love, how cliché? And decided to stick around. Not one to keep paradisical holiday destinations to herself, she now writes a Tuscan travel blog and online travel guide about the infinitely beautiful Tuscan Maremma, so that others can get a taste of la dolce vita.