Private sector continues to have interest in restoring some of Italy's historic landmarks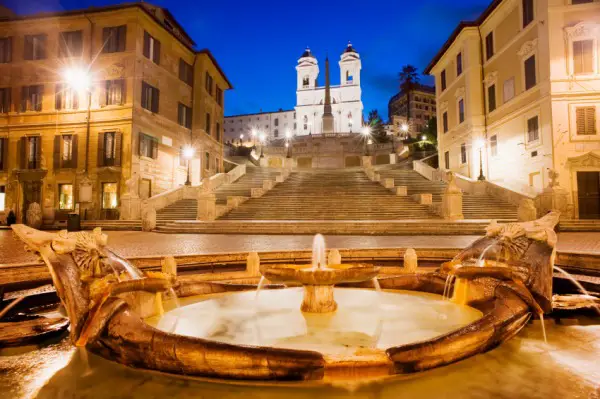 Last year luxury goods company Bulgari answered the Italian government's appeal for help in financing a renovation of Rome's famous Spanish Steps.
Bulgari, which was bought in 2011 by French luxury giant LVMH, will be putting €1.5 million ($1.7 million) into the refurbishment.
The 18th-century Baroque-style stairway, which has 144 steps, was last restored 20 years ago.
The work, which will be carried out by local restorer Il Cenacolo, is expected to be finished by spring 2016, at which point the steps will be "restored to the whole world in all their beauty and splendour," Rome Mayor Ignazio Marino said.
The steps will be closed to pedestrians until December 7th – the start of a special Jubilee year expected to draw millions of Catholic pilgrims to Rome – after which a side ramp will be opened to allow access to tourists.
"Rome has always been the number one source of inspiration for Bulgari so it is right to give back to Rome what Rome has given Bulgari," the jeweller's CEO Jean-Christophe Babin said as work began.
The work includes re-levelling the steps to repair natural wear and maintenance of the rainwater drainage system, as well as restoring the original lamps which illuminate the steps by night.
The Spanish Steps, which links Bernini's "boat" fountain with the Trinita dei Monti church at the top, were made famous in the United States by the 1953 film Roman Holiday, starring Audrey Hepburn and Gregory Peck.
The Spanish Steps refurbishment will be "the special gift from Bulgari to its city" to mark the jeweller's 130th anniversary, the company's chief executive Jean-Christophe Babin told a press conference in Rome.
Italy's Prime Minister Matteo Renzi called for private investors to help restore and maintain the country's heritage monuments, after a series of wall collapses at the ancient ruins of Pompeii in southern Italy.
"Italy is a country of culture and so I challenge businessmen. What are you waiting for? If the private sector can keep the wall standing upright, why not allow it to?" he said.
Many Baroque or Renaissance churches and Roman-era archaeological sites are kept permanently off limits to the public for lack of maintenance.
Other brands in the private sector have recently been willing to help restore some historic landmarks. Luxury shoemaker Tod's is financing work at the Colosseum, while high-end fashion house Fendi committed to refurbishment of the Trevi Fountain and Versace & Prada plan to revamp the Galleria Vittorio Emanuele II.