Of the many parts of a mans dress ensemble, it might be the shirt that is most important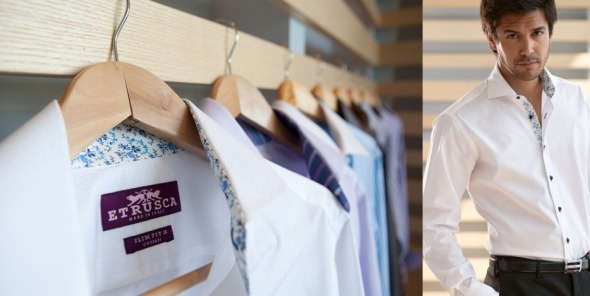 A well fitted shirt that is versatile under a suit jacket or without, comfortable, made well with attention to detail and be uniquely pleasing on the eyes, are just some factors to consider when buying. Most of all, the shirt must start with beautiful and luxurious fabrics. ETRUSCA selects fabrics produced only in the finest Italian Mills, steeped in a long history of offering quality and style.
Over the past decade, American men have embraced the slim-fit shirt styles long favored by their counterparts in Europe and Asia. Taking advantage of this consumer desire, ETRUSCA has created their Slim Fit shirt as a trimmer cut with back darts, suitable for a modern look. If Slim Fit is not your style, ETRUSCA has mastered various other cuts and drapes for your particular taste.
One thing is always certain, wearing an exquisite shirt from ETRUSCA will exert confidence and the impression that you know style.
Visit their website to see the full line of collections and sale currently going on. A perfect time to try the perfect shirt.
Sign up for the ETRUSCA Shirt Club and get member discounts. They also offer Free International Shipping.
Website: http://etruscamadeinitaly.com