a film by Matt Tyrnauer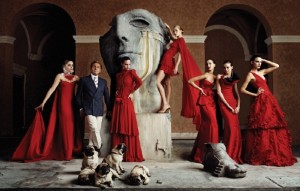 Valentino: The Last Emperor, directed by Matt Tyrnauer, is a feature-length movie that takes the viewer inside the singular world of one of Italy's most famous designers, Valentino Garavani. The film documents the colorful and dramatic closing act of Valentino's celebrated career, tells the story of his extraordinary life, and explores the larger themes affecting the fashion business today. In production from June 2005 to July 2007, the filmmakers shot over 250 hours of footage with exclusive, unprecedented access to Valentino and his entourage.
"We were let in to the inner circle, but we had to stick it out for a long time, practically move in, to capture the truly great moments," says Tyrnauer. "Valentino is surrounded by a tight-knit family of friends and employees, but, eventually, their guard came down and they forgot there was a camera crew in the room.
The scope of Valentino's wealth and the elaborateness of his global lifestyle put him on a level with emperors, kings, and queens. It is a world of villas, chateaux, yachts, fine art, and Meissen porcelain treasures.
Valentino: The Last Emperor looks at a majestic life from the inside, but the movie is not a simple story of shallow glamour. It is the saga of a family—though not a traditional one—and a meditation on the creative process. It's also the story of a soon-to-be- forgotten lifestyle at the twilight of haute couture.
"Valentino is the last of the great couturiers to still have had his name on his company and to be in creative control. He is also a design genius and an Italian original—a sort of national treasure, the Verdi of high fashion," says Tyrnauer. "He lived la dolce vita to the hilt, long after the real era ended, and now, finally, with his retirement, comes the end of an era, the closing of a colorful chapter in the history of Rome and global fashion."
Valentino: The Last Emperor is much more than a fashion movie. It is a portrait of an extraordinary partnership, the longest running in fashion, and a dramatic story about a master confronting the final act of his celebrated career.
Over the last 45 years, Valentino's work has come to represent a phenomenon in the history of fashion. No other great designer has achieved such creative and
entrepreneurial longevity, always maintaining the spirit and true strength of the company that bore his name.
Italia Living is proud to have been an exclusive partner in promoting this film: http://valentinomovie.com/#contact
For more detailed info, showings, and video clips, visit "Valentino: The Last Emperor"